College Council Newsletter – Spring 2015
Our latest edition includes highlights of the Knights of Columbus College Council participation in the 2015 National March for Life events and more.
Read More
|

Download pdf
2015 Divisional Recruitment Contest
The Supreme Council is sponsoring the 2015 Divisional Recruitment Contest, and your council could win up to $200 while growing your community of Catholic young men.
The contest runs from January 1, 2015 to April 30, 2015, and your goal is to recruit as many new members as possible.  Please click here to see the current report.
CUA Knights Named 2013/14 Outstanding College Council

Members of Council 9542 at The Catholic University of America were presented the Order's
top award for College Councils
by Supreme Knight Carl Anderson on September 26th at the College Councils Conference in New Haven.
2014 College Councils Conference
College Knights representing 79 schools gathered in New Haven from September 26-28th.
The College Councils Conference, the annual leadership summit for College Knights, brought together 190 attendees to network and share best practices, as well as celebrate the achievements of College Councils during the last academic year.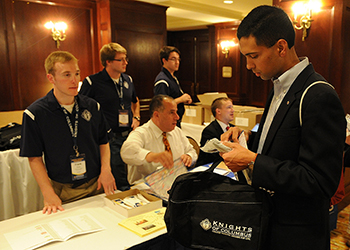 Supreme Knight Addresses
College Conference
Photos
Announcing New Young Adult Insurance Program
Designed specifically for college and graduate knights, this program offers affordable term life insurance for Knights ages 18 to 29. Click here to find out more information and request a customized quote online. Every council should encourage its members to take advantage of this new opportunity.
---
Mission:
The mission of the Knights of Columbus College Council Program is to promote the moral, intellectual and spiritual development of the future leaders of civil society, the Order, and the Church through witness to the Gospel and dedication to the principles of charity, unity, fraternity and patriotism.
If you are interested in starting a college council on your campus, contact us.
Employment Opportunity:
Are you a recent graduate? Do you want to make a difference?
Watch a couple of our new agents share their experience.
Learn more about a career as a Knights of Columbus field agent.