Carl A. Anderson
Supreme Knight – Knights of Columbus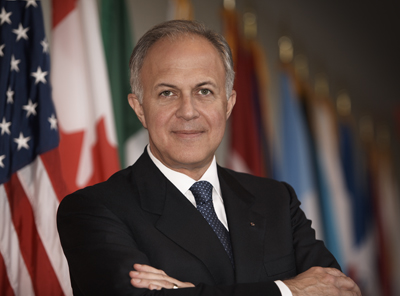 Carl A. Anderson
300 DPI Image
Photo Gallery
Becoming the thirteenth supreme knight of the Knights of Columbus in 2000, Carl Anderson has led the Knights and their families to unprecedented levels of charitable giving and support for their communities and Church. Most recently, under Mr. Anderson's leadership the Knights have donated more than $158 million to charity and provided more than 70 million volunteer hours of charitable service. Over the past decade, under his guidance, the Knights of Columbus has donated more than 664 million hours of service to charity and $1.4 billion to charity.
Supreme Knight Anderson has also led the Knights in a variety of charitable endeavors, including:
• Establishing the Heroes Fund to provide immediate assistance to the families of first responders who lost their lives on 9/11;
• Raising and donating close to $10 million to help rebuild Catholic churches and schools in the aftermath of Hurricane Katrina in the U.S. Gulf Coast;
• Distributing more than 30,000 wheelchairs to those in need in Afghanistan, Vietnam and numerous other Third World countries;
• Establishing the Pacem in Terris Fund to assist Catholic schools in the Holy Land;
• Giving more than 70,000 winter coats to children throughout the United States and Canada since 2009;
• Financing the construction of the new national Catholic seminary in Cuba;
• Providing, along with Project Medishare, artificial limbs to the nearly 1,000 children in Haiti who lost legs in the 2010 earthquake that devastated that country;
• Printing and donating more than half a million Catholic prayer books to U.S. military personnel deployed overseas;
• Building schools and food distribution centers for AIDS orphans in Kenya and Uganda;
• Donating over 268 ultrasound machines valued at more than $14 million to crisis pregnancy resource centers in 44 states and Canada;
• Establishing, at the Catholic University of America, Father Michael J. McGivney Hall, as the new home of the Pontifical John Paul II Institute for Studies on Marriage and Family;
• And most recently, the Knights have purchased the John Paul II Cultural Center in Washington, DC - and have established there an Archdiocesan Shrine to Blessed John Paul II. This Shrine will be devoted to this great pope and will soon house a world-class museum dedicated to his life, his pontificate and his teaching.
In over a decade as the chief executive officer of the Order, Anderson has overseen strong growth in the Knights' financial resources — many of which have nearly doubled during his tenure. Life insurance in force has doubled from $40.4 billion to over $86 billion — an increase of nearly 7% a year. Annual life insurance sales have also increased — from $4.0 billion in 2000 to nearly $8 billion in 2011 — an annual growth rate of 6.4%.
Prior to becoming the leader of the Knights of Columbus, Mr. Anderson had a distinguished career as a public servant and educator. He worked for a number of years in the White House – including acting director of the White House Office of Public Liaison. He also served for a decade as a member of the U.S. Commission on Civil Rights. He taught family law at the Pontifical John Paul II Institute for Studies on Marriage and Family at the Pontifical Lateran University in Rome and was the founding vice president and first dean of the Washington, D.C., session of this graduate school of theology now located at The Catholic University of America.
In addition he is the author of several books including the New York Times bestseller, A Civilization of Love: What Every Catholic Can Do to Transform the World.
Supreme Knight Anderson has been appointed by Pope John Paul II and Pope Benedict XVI to positions on a number of Vatican commissions. He also serves on a number of committees of the United States Conference of Catholic Bishops.
He and his wife, Dorian, are the parents of five children.