Supreme Knight Addresses College Conference
9/26/2014
K of C history author keynote speaker at banquet
Offering remarks to more than 200 college Knights from over 87 campuses across North America, Supreme Knight Carl Anderson spoke of the Order's heritage and legacy, and most importantly how it fits into the New Evangelization. This is especially important, he said, in a "culture of suspicion" that questions the relevance of Christianity and especially Catholicism. This, Supreme Knight Anderson said, is addressed in St. John Paul II's Theology of the Body where the great pope said "Man is created out of love, he is called to love, and his life is meaningless unless he finds authentic love."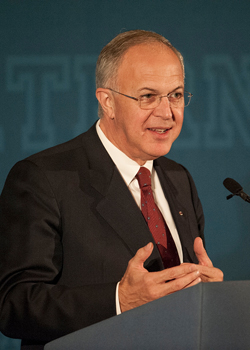 So the answer to what is the mission of the Knights of Columbus in light of the New Evangelization, he said, is for Knights to "demonstrate that it is possible to live this way (the way of the Gospel) and that living this way is better than any other way."
"Profess what you believe, profess what you know, and live what you profess," Supreme Knight Anderson told the college Knights. "That's our heritage, our legacy and that is our message."
"Anyone who tells you that youth are the future of the Church, doesn't have it right," he continued. "Youth are not the future of the Church, they are the present of the Church. Today you are Catholic laymen responsible for living the mission of the laity, to transform society through the living of the message of the Gospel."
Following the message from the supreme knight, Kevin Coyne delivered his keynote address. Coyne, who is currently writing a book on the history of the Knights of Columbus, has written for a variety of magazines and newspapers, including the Asbury Park Press and The New York Times, for which he wrote a weekly column about New Jersey. He has taught at Columbia University's Graduate School of Journalism since 2000, and has twice been named Distinguished Teacher of the Year. He is the author of A Day in the Night of America, Domers: A Year at Notre Dame, and Marching Home: To War and Back with The Men of One American Town, for which he received the J. Anthony Lukas Work-in-Progress Award.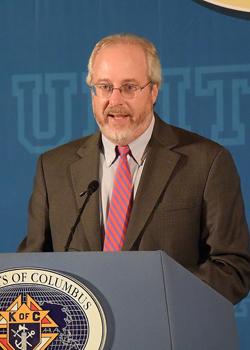 During his address, Coyne highlighted many of the accomplished Knights who made up the Order's history, including John O'Hara. Born in 1888, O'Hara was the son of the U.S. consul to Uruguay and consequently spent part of his youth in South America. He later entered the seminary, was ordained a priest, and returned to the University of Notre Dame where he had previously taught. Not only did Father O'Hara become the prefect of religion at Notre Dame, he also became a big booster of the school's football team, encouraging many of the players to receive daily Eucharist. He wrote: "Devotion to the Blessed Sacrament is a mark of strength and not of weakness."
"Football wasn't just football to O'Hara, who later became president of Notre Dame," Coyne said. "He once wrote this: 'Notre Dame football is a spiritual service because it is played for the honor and glory of God and of his Blessed Mother. When St. Paul said, 'Whether you eat or drink, or whatsoever else you do, do all for the glory of God,' he included football.'"
During World War II he was the apostolic delegate to the U.S. military forces. After the war, he became bishop of Buffalo, then later archbishop, and finally, Cardinal of the Archdiocese of Philadelphia. His last words before his death in 1960 were, "I want to go home." He was later buried at his beloved Notre Dame.
"It would be hard to find somebody whose life better exemplified the principles the Knights stand for – Charity, Unity, Fraternity and Patriotism – and that is why I offer him to you as an example," Coyne said. "Because he was once one of you – a young student at a Knights college council. I don't know if there's a Cardinal O'Hara among you, but I do know that there's a piece of him in all of you, that you, too, stand for the principles that he stood for – and that piece will only grow as you grow, and as you broaden the commitment you have already made as young Knights."
Following the addresses, Supreme Knight Anderson and several other supreme officers and Supreme Council representatives conferred awards on the college Knights for their exemplary service and achievement.
The evening's marquee award, the Outstanding College Conference Award, was given to The Catholic University of America Council 9542 in Washington, D.C. The council members put in hundreds of hours of service to others and offered public witness to their faith in a variety of projects, including: making improvements to council-member communications; maintaining membership degree teams; earning Double Star Award status by bringing in 48 new members and nine new insurance members; sponsoring a biweekly discernment group directed by Knights and their chaplain; conducting two "week of service" events during the school year; making more than 200 sandwiches for a soup kitchen; providing food deliveries to homeless people; visiting senior citizens in nursing homes; tutoring children at an after-school program; hosting the annual college council football game held with the other college councils in its area; and helping to organize The National Prayer Vigil for Life at the Basilica of the National Shrine of the Immaculate Conception prior to the annual March for Life.
For the first time at the College Conference banquet, councils were recognized for having earned the distinction of Star Council. The Star Council Award is the highest distinction any council can achieve. It takes into consideration a council's membership and insurance growth, as well as programming activities reported in each of six program categories, which are the foundation for the council's charitable outreach and hours of service donated to the community, school and Church. At the end of the last fraternal year, 19 college councils attained Star Council status. The following councils, having achieved 100 percent of their membership growth goals, were recognized during the evening for having earned Star Council status:
University of Illinois at Urbana-Champaign Council 2782
St. Gregory's University Council 5354 in Oklahoma
North Dakota State University Council 9126
University of Maryland Council 13295
Mexico DF Council 14104
Georgia Institute of Technology Council 14496
University of Northern Iowa Council 14987
University of Houston Council 15105
The following councils have achieved 200 percent of their net membership goal, in addition to completing the requirements for Star Council, earning them Double Star status:
The Catholic University of America Council 9542 in D.C.
Oklahoma State University Council 11135
Drake University Council 14977
In addition, the following councils attained the Triple Star Council Award, showing a remarkable commitment to membership and council activity:
St. Peter's University Council 7913 in New Jersey
University of St. Thomas Council 11949 in Minnesota
In the area of membership, the award for highest net gain went to United States Naval Academy Council 14534 in Annapolis, Md., with a net gain of 66 new members, while the award for highest percent gain in membership (37.5 percent) went to St. Peter's University Council 7913 in Jersey City, N.J.
The award for highest net gain in insurance members - 13 new insurance members - went to University of Illinois Council 2782 in Urbana-Champaign. St. Peter's University Council 7913 in Jersey City, N.J., received the award for highest percent gain in insurance members, with a gain of 21.8 percent.
The College Council Service Awards were also presented to the following councils: University of Illinois Council 2782 in Champaign (Church Activity); Georgetown University Council 6375 in Washington, D.C. (Community Activity); Harvard University Council 14188 in Cambridge, Mass. (Council Activity); University of Houston Council 15105 in Houston, Texas (Family Activity); Louisiana State University Council 15064 in Baton Rouge (Youth Activity); and University of Notre Dame Council 1477 in Notre Dame, Ind. (Culture of Life Activity). For more information about the 2014 College Conference, visit kofc.org/college.