Connecticut Knights of Columbus Distribute Kids Coats on 'Black Friday'
11/27/2015
Children in six cities throughout state receive the gift of warmth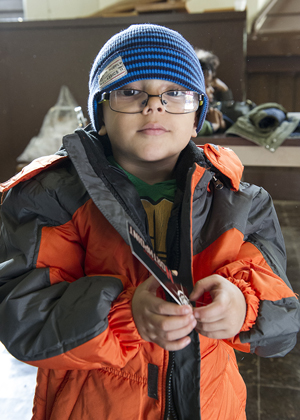 As many headed out to shop on the day after Thanksgiving, hundreds of area children received a free and much-needed gift as the Knights of Columbus distributed new winter coats to children in need at six sites throughout Connecticut on Black Friday, Nov. 27.
The K of C Coats for Kids distributions were held at sites in Bridgeport, Hartford, New Haven, Stamford, Taftville and Waterbury. The statewide initiative builds on a program that started in Bridgeport during Thanksgiving weekend in 2012.
More than 2,000 coats were distributed statewide by the Knights.
"While society pushes us to buy things on Black Friday, the Knights of Columbus wants to remember those who don't have basic necessities that most of us take for granted," said Supreme Knight Carl Anderson. "Our members are making sure that children have something essential, a coat, to help them stay warm during winter — which, as we were reminded last year, can be especially cold in Connecticut."
Also that day, coats were distributed by Knights in several other states from coast to coast.
Since the program was launched in 2009, more than 300,000 new coats have been distributed to children by Knights of Columbus.