Knight Recognized for Faith and Achievements
12/17/2015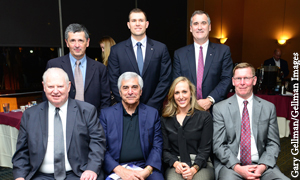 Craig Stammen with Ray McKenna, President of Catholic Athletes for Christ (left) and Bill Bordley, Director of Sports Outreach at Supreme Council (back row) are joined by former Major Leaguers Jim Hannan (Washington Senators, front row far left) and Tom Carroll (Cincinnati Reds, front row far right)
Major league baseball's Craig Stammen, a member of the Knights of Columbus Sports Council, was honored recently by Catholic Athletes for Christ (CAC) during its fifth annual Courage Awards reception, recognizing his distinguished athletic achievement and boldness in sharing the Catholic faith. The event, which took place at Marymount University in Arlington, Va., also honored high school and college senior student athletes in the Arlington Diocese.
Stammen, a relief pitcher formerly with the Washington Nationals, was honored for leading the Nationals Catholic ministry since his arrival to the team in 2009. He served the local Catholic community throughout his time in Washington, but especially in 2015 by speaking regularly to Catholic students at Arlington Diocese elementary and high schools. In addition, he was instrumental in the success of CAC's Catholic Baseball Camp held at Paul VI High School, July 24. Craig suffered a season-ending injury early in the 2015 season and used the opportunity away from the baseball diamond to advance his evangelization efforts.
Craig Stammen is a member of the growing Knights of Columbus sports council which is building on the Knights' storied history in the world of sports.