Knights Lead Ohio Tornado Relief
7/16/2019
By Joe Pappalardo
Statues, volunteers stand amidst rubble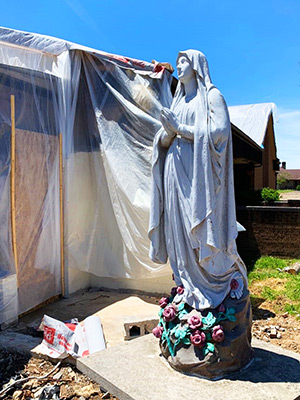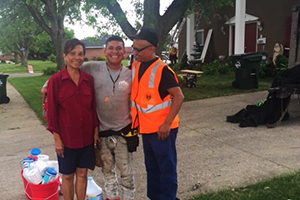 DAYTON, OH — In the midst of rubble at Queen of Martyrs Parish, one statue of Mary stood firm, emblematic of the steadfastness of Knights of Columbus members who helped get the city back on its feet.
Dayton residents and their neighbors in Western Indiana and eastern Ohio had spent two weeks enduring tornadoes and utility outages in late May. Striking on May 27, multiple tornadoes, with winds ranging from 110 to 170 mph, had left 70,000 residents of Dayton in the dark. And in nearby Celina, power was not restored until June 6.
But that didn't stop the Knights.
Members of La Morenita de Guadalupe Council 16571 in Dayton, a Spanish language council, were eager to be the first on scene, according to State Disaster Relief Coordinator Michael Freil. Members of the council, with local priest Father Ariel Rincon Pico, were among the response teams delivering truckloads of supplies to homes that suffered damage to their roofs and walls.
This past year saw natural disasters of epic proportions across the continental United States. But the Knights' charitable response to the destruction revealed the heroic character innate in our members.
Freil shared photos of Pico and local Knights handing out cleaning supplies to a couple who lost parts of their roof and the rear of their house due to an EF 3 tornado.
"This statue was standing in a flower bed across the street. The house was nearly obliterated, roof was gone, two walls blown away, and this angel did not have a scratch," he said.
Queen of Martyrs Parish was one of three local churches impacted, with St. Rita Church and St. Adalbert Polish Catholic Church also suffering damage.
The work of Council 16571, along with that of Francis X. Hoffer Council 14504, is especially important for impacted communities that are now out of work, Freil said. The disaster destroyed places of work for many families, doubly affecting them as they must now overcome both storm damage and unemployment. In these communities, the Knights are especially needed.
The Knights have continued to support relief efforts as they finish distributing supplies sent by the Supreme Council. A total of 200 gift cards will be distributed to affected residents. After that, the local Knights intend to clean up the city and restore their communities.
Since last fall, the Knights of Columbus has raised more than $1 million and volunteered hundreds of hours to help victims of natural disasters.
To donate to disaster relief efforts click here.
Share your story with joseph.pappalardo@kofc.org