Knights of Columbus' Gift Helps Connecticut Food Bank Make Thanksgiving Special
11/22/2015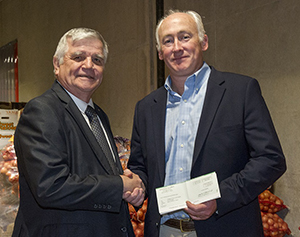 Deputy Supreme Knight Logan Ludwig presents a $20,000 donation to Connecticut Food Bank Interim CEO Paul O'Leary, to help provide Thanksgiving meals to those in need.
Photos
The Knights of Columbus has donated $20,000 to assist the Connecticut Food Bank in providing Thanksgiving turkeys to those in need.
"With food costs rising and people struggling with hunger in our community, the Knights of Columbus is pleased to support the wonderful work of the Connecticut Food Bank in helping make this Thanksgiving truly special for our neighbors who otherwise might not be able to celebrate this holiday," said Supreme Knight Carl Anderson.
He added: "Helping those on the margins of society, who lack what most of us take for granted, has been the mission of the Knights of Columbus for more than 130 years."
For more than a decade, the New Haven-based K of C has regularly supported the food bank with donations of food and funding — especially during the holiday season. K of C employees and volunteers have also assisted Connecticut Food Bank during the years through a variety of fundraising and volunteer endeavors.
"With this generous gift from the Knights of Columbus, we can source enough fresh, nutritious produce to provide more than 66,000 meals to hungry families in Connecticut," said Connecticut Food Bank Interim CEO Paul O'Leary.
Based in Wallingford, Connecticut Food Bank provides food to some 700 partners and programs serving 127 cities and towns in six Connecticut counties. More than 300,000 people in that area struggle with hunger. Last year, the organization provided food for more than 18 million meals.