The Order encourages all councils and assemblies to sponsor the Knights of Columbus Essay Contest at schools in their communities. The essay contest is a creative way to encourage young people to become citizens who are firmly grounded in the Faith.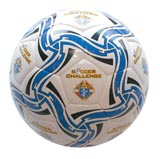 Now is the time to order your Soccer Challenge Kits for your council competititions in September.  Click on the title above to learn more about the Soccer Challenge.  District Deputies should start preparing for their district competitions and order your kits.  Also, order your district medallions by calling (203) 752-4016. 
Recruiting new members is essential to the continued growth and well-being of your council and the Order. Offering a man membership in the Knights of Columbus gives him the opportunity to improve his own life and his community. Membership allows him to experience the fraternal bond that Knights share while growing closer to his family and faith.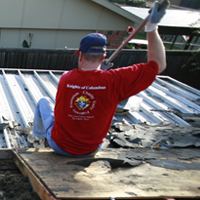 The Service Program is designed to establish each council as an influential and important force within the community, elevate the status of the programming personnel, provide more meaningful and relevant programs of action, establish direct areas of responsibility, build leadership, and ensure the success of council programs.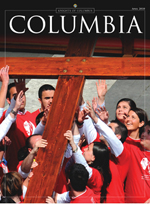 Keep yourself informed by reading the latest handbooks, magazines, newsletters and reports
Publications
The dream of Father Michael J. McGivney was to have a council presence in every parish is our daily focus
The Measure of Success
Over 135 years ago, on July 28, 1879, The New York Times described in a front page article "Roman Catholic Troubles in New Haven: How an Aristocratic Avenue was Blemished by a Roman Church Edifice." The article reported St. Mary's Church in New Haven, Conn., as "cold and repulsive [in] appearance," with parishioners who are "mostly servant girls." Noting that the parish held only 85 cents in its treasury at the end of 1878, with a debt of $160,000 ($3.724 million in today's money), the article states: "It is considered almost impossible to continue the Church in its present condition. ... How foolish were those who persisted in building the Church on the spot where it stands," The New York Times concluded. "It invaded the most exclusive home of wealth and culture. It is an eyesore on the avenue, a source of annoyance and injury to neighboring residents, and a complete failure as a business enterprise." 
This month's Chaplain's Report
State Chaplains Meeting