The Order encourages all councils and assemblies to sponsor the Knights of Columbus Essay Contest at schools in their communities. The essay contest is a creative way to encourage young people to become citizens who are firmly grounded in the Faith.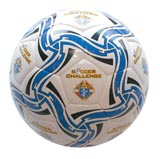 Now is the time to order your Soccer Challenge Kits for your council competititions in September.  Click on the title above to learn more about the Soccer Challenge.  District Deputies should start preparing for their district competitions and order your kits.  Also, order your district medallions by calling (203) 752-4016. 
Council Challenge - If the council recruits 12 new or former members and reports the results on the form, the council receives VIP points to be used at the council's discretion. The points can be used to purchase merchandise for the Knights of Columbus gift catalog.  Remember there are two steps:  first, recruit the new members and second, complete the form.  Guidelines are as follows:
Recruit 12 by September 30, 2014 and receive 60,000 V.I.P. Points.
Recruit 12 by December 30, 2014 and receive 40,000 V.I.P. Points.
Recruit 12 by June 30, 2015 and receive 20,000 V.I.P. Points.
Please note points will be sent out at the end of each time frame.
On Par for Star -  This contest is for councils that may need to catch up to be on track for the Star Council award; the contest runs from October 1 through December 31, 2014.  By the end of December your council should be halfway towards its Star Council Award net membership quota. Please click here for details.
Star Council is the ultimate goal for any council. For the fraternal year 2014-15 ending on June 30, 2015, if your council attains:
Star Council - Council will receive 10,000 VIP points
Double Star Council - Council will receive 20,000 VIP points
Triple Star Council - Council will receive 30,000 VIP points
Over 400% - 40,000 VIP Points
These points are in addition to the plaque for the council and the lapel pins for the Grand Knight, Council Membership Director, and Council Program Director.
BONUS - Please click here 
Compete against other jurisdictions in your country and stay NET/NET positive each month. Click on countries below for more information. Click on the title for the World Sports Membership Championship Report.
Philippines
January 1, 2015 - March 31, 2015
Receive 7,500 VIP points if you conduct three First Degrees in your district.  For every degree over the initial three, you will receive 2,500 VIP points.  You must submit form 450 no later than April 10, 2015 to receive credit.

Receive a bonus of 5,000 VIP points if you conduct at least one First Degree in your district in each of the months of January, February and March, 2015.  You must submit form 450 no later than April 10, 2015 to receive credit.
January 1, 2015 - June 30, 2015
Between January 1st, 2015 and June 30th, 2015, if you form a new council, reinstate a dissolved or merged council, or reactivate a suspended council, you will receive 10,000 VIP points per new council, reinstated or suspended council. 
By forming a new council, reinstating one or reactivating another, you are helping to establish a Knights of Columbus presence in the communities of your district.  Where a council is not feasible, you can certainly form a round table.  In those ethnic parish communities, if they are large enough, you can form ethnic councils, or otherwise round tables.  Forming, reinstating or reactivating a council is perhaps the most rewarding aspect of being a District Deputy.  This is an experience that you should not pass up. 

• For more information on how to form a new council, reinstitutions and round tables, please contact Stephen Hinckley at (203) 752-4247
• For more information on how to reactivate a council please contact Georges Haddad at (203) 752-4250 or Wojciech Dadak at (203) 752-4734
• For more information on forming ethnic councils and ethnic round tables, please contact Al Cala at (203) 752-4378
Between January 1, 2015 and June 30th, 2015, receive 1,000 VIP points for recruiting a new member or reinstatements, reactivations, readmissions or reapplications of former members.  Your name and membership number must appear on the Proposer Box of the form 100 to receive credit.
If you recruit 6 or more of the members listed above during this time period, you will receive a bonus of 2,000 VIP points per member recruited.
Two examples:
1. You recruit 4 members between January 1st and June 30th, 2015:  you would receive 4,000 VIP points, or 1,000 points per member; the points double because the normal amount is 500 points.
2. You recruit 7 members between January 1st and June 30th, 2015:  because you have passed the threshold of 6 or more members, your points would double again, giving you 2,000 VIP points per member for a total of 14,000 VIP points.
The six member threshold represents the average of One Member, per Council, per Month, which you would contribute to your council or any council in the Order.
Please click on the title to go to KnightsGear to view items that can be obtained with your points.

Recruit new members between October 1 and December 31, 2014 and you will receive one or more of the following commemorative items:
| | |
| --- | --- |
| Members Recruited | Commemorative Item |
| 1 or 2 | Ceramic Mug |
| 3 or 4 | Swiss Army Knife |
| 5 to 9 | Coaster Set |
| 10 or more | Receive all the above |
Click on the title above for more detailed information.
Recruiting new members is essential to the continued growth and well-being of your council and the Order. Offering a man membership in the Knights of Columbus gives him the opportunity to improve his own life and his community. Membership allows him to experience the fraternal bond that Knights share while growing closer to his family and faith.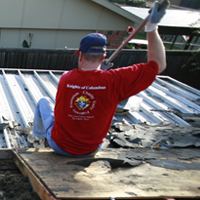 The Service Program is designed to establish each council as an influential and important force within the community, elevate the status of the programming personnel, provide more meaningful and relevant programs of action, establish direct areas of responsibility, build leadership, and ensure the success of council programs.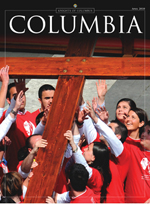 Keep yourself informed by reading the latest handbooks, magazines, newsletters and reports
Publications
The dream of Father Michael J. McGivney was to have a council presence in every parish is our daily focus
A Nine-Month Novena for the Family
The family remains at the heart of the founding charism of the Knights of Columbus. Father McGivney understood well the perils threatening family life in the 19th century. In 1873, at the age of 21, he had to interrupt his own seminary studies upon the death of his father, Patrick, to care for his mother and six younger siblings. It was only with the financial assistance and sacrifice of his future brother-in-law Michael Lawlor (who himself had two brothers who were priests), as well as extraordinary support from Bishop Francis Patrick McFarland of Hartford, that our founder was able to return to the pursuit of his theological studies. It was this personal experience that shaped his response to the pastoral challenges threatening the families he served as a young vicar at St. Mary's in New Haven, Conn. 
This month's Chaplain's Report
State Chaplains Meeting