The Order encourages all councils and assemblies to sponsor the Knights of Columbus Essay Contest at schools in their communities. The essay contest is a creative way to encourage young people to become citizens who are firmly grounded in the Faith.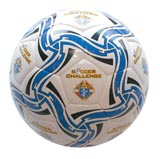 Now is the time to order your Soccer Challenge Kits for your council competititions in September.  Click on the title above to learn more about the Soccer Challenge.  District Deputies should start preparing for their district competitions and order your kits.  Also, order your district medallions by calling (203) 752-4016. 
November 1, 2015 - January 31, 2016
For the next three month, we will be involved in four Winter Tournaments:
U.S. - Super Bowl of Membership
Canada - Columbus Cup Membership Playoffs
International - World Series of Membership
Philippines - Membership Heavyweight Boxing
See attached contest rules for November only.  The contest rules for December and January will be published at the end of the previous month and awards will now be monthly.
July 1 to October 31, 2015
Recruit a certain percentage each month and win. Click on title to see the report.
October 1 - December 31, 2015 - One First Degree, per District, per Month
Do at least one First Degree per month or more.
Conduct one First Degree in your district per month and receive 15,000 VIP points*
Conduct one First Degree in your district 2 out of the 3 months and receive 10,000 VIP points*
Conduct one First Degree in your district 1 out of the 3 months and receive 5,000 VIP points*
For every additional degree each month, receive 2,500 VIP points* per degree.
*Must submit all forms 450 by January 15, 2016 to receive credit for each degree; additionally each degree must have at least 3 new members.
You can attain the three member mark each month by having multiple degrees and you will still get credit for those degrees as well.
Council Challenge - If the council recruits 12 or more new/former members by December 31, 2015, the council will receive 20,000 VIP points to be used at the council's discretion. The points can be used to purchase merchandise from Knights Gear.
Please note points will be sent out at the end of the challenge.
Star Council is the ultimate goal for any council. For the fraternal year 2015-16 ending on June 30, 2016, the following awards are available if your Council attains Star Council:
Newly designed plaque with Council's Net Membership goal attained
Star Council Lapel pins for the Council Grand Knight, Membership Director and Program Director
10,000 VIP points per Star attained up to 5 stars
20% Bonus on VIP points for those councils who attained Star Council status last Fraternal year and earn the same level or higher status this year.
The Knights of Columbus Council Batting Challenge started July 1 and ended September 30, 2015. Please see the challenge rules below:
Recruit at least 5 new or former members during this challenge and your council will win a miniature Louisville Slugger Bat.
Recruit at least 10 new or former members during this challenge and your council will win a Full Size Personalized Louisville Slugger Bat.
ADDED BONUS – For each new or former member your council recruits within the first 3 months of the Fraternal Year the council will receive 1,000 points per member recruited.
In honor of Pope Francis' visit to the United States in September, 2015, we are offering a special incentive to all recruiters.  Between July 1 and December 31, 2015, you will receive 2,000 VIP points for every new or former member recruited in this time period in addition to a medallion similar to the one here for the first new or former member recruited only.
Each of you are an important part of the Order's growth and success, Therefore, if any of your councils attain one of the levels of the Star Council Award, you will receive a lapel pin with the number of councils that have attained Star Council.  Additionally, you will receive some VIP points for each Star Council in your area. Click on the title to view the postcard sent out to the field.
Recruiting new members is essential to the continued growth and well-being of your council and the Order. Offering a man membership in the Knights of Columbus gives him the opportunity to improve his own life and his community. Membership allows him to experience the fraternal bond that Knights share while growing closer to his family and faith.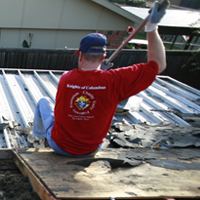 The Service Program is designed to establish each council as an influential and important force within the community, elevate the status of the programming personnel, provide more meaningful and relevant programs of action, establish direct areas of responsibility, build leadership, and ensure the success of council programs.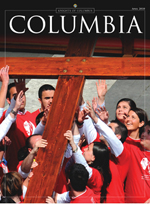 Keep yourself informed by reading the latest handbooks, magazines, newsletters and reports
Publications
The dream of Father Michael J. McGivney was to have a council presence in every parish is our daily focus
Men on the Periphery
This year, on Aug. 14, we commemorate the 125th anniversary of the death of Venerable Servant of God Michael J. McGivney. Having devoted himself to the pastoral service of the Church, Father McGivney died at the age of 38 in 1890. Among the extraordinary virtues of his life, his evangelical zeal stands out. Over the course of 13 years, this parish priest sought out Catholic men on the peripheries. He was stationed at a church with an enormous building debt, where his own parishioners were derisively described as "servant-girls" by The New York Times (28 July 1879). There, in the shadow of an elite Protestant Ivy League university, Father McGivney reached out to those on the margins.
This month's Chaplain's Report
State Chaplains Meeting