3 Steps to Manly Virtue
Contact Us
Choose the right weapon for the right fight
By Soren Johnson
This article was written exclusively for Knights.net, the members-only digital portal from the Knights of Columbus. Looking for more? Join the Knights of Columbus today.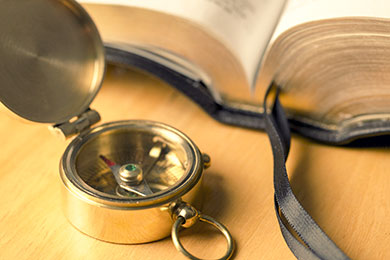 Virtue comes from the Latin word vir, meaning "man."
Think about it.
Virtue should be integral to who you are, fundamental to your identity as a man. So you need to ask yourself: Where is virtue in my daily life? Is it the focus of my thoughts and actions, or on the periphery? How do I become stronger in virtue? Do I struggle with particular vices which divert my attention from virtue? How do I begin to develop particular virtues?
We have spoken about our identity as sons of God the Father and followers of Jesus. This identity is a great privilege that brings with it an obligation, a mission to pursue virtue amid the many temptations of life. To bring the battle to the enemy, we must take up the weapons of specific virtues against opposing vices. Vague sentiments don't cut it; grit and focus do. Every soldier has weak spots and you must know yours. These are areas where a particular sin can wreak havoc on your readiness for battle.
This focus takes hard work that is daily and detailed. Our culture no longer supports a man in the pursuit of virtue. In fact, virtue is constantly replaced by subjective sentiments. We hear people say, "If it feels good, it is good," or "That's true for you but not for me." But virtue is rooted in objective truth. As Knights who are committed to leading with faith, we need to discover the source of virtue to attain the power of virtue.
The first step is to get a clear picture of the battle we face between good and evil.
In a chapel in Padua, the Italian master Giotto painted personifications of virtues on one wall and, on the facing wall, figures of the opposing vices corresponding to the Seven Deadly Sins. Each of us, every day, stands figuratively in the center of that chapel and chooses whether to focus on one wall or the other. There are many sins, but they stem from three principal temptations which beckon from one wall: passions of the flesh, the lust to possess, and pride (cf. 1 John 2:16). We must set out to attack those vices within us.
But how?
When Jesus battled Satan in the desert for 40 days, he modeled for us a threefold strategy.
First, against passions of the flesh, he calls us to fast (Mt 6:16). "Fasting is training in self-knowledge," states Into the Breach, "a key weapon for mastery over oneself. If we do not have dominion over our passions, especially those for food and sex, we cannot possess ourselves and put the interests of others in front of our own."
Second, against a desire for possessions, Jesus calls us to simplicity of life. Satan offered him "all the kingdoms of the world and the glory of them" (Mt 4:8), but he rejected them.
Third, against pride, Jesus calls us to prayer. "The greatest protection from pride and self-reliance is turning humbly to God in prayer," advises Into the Breach.

Fasting, simplicity of life and prayer: these three weapons comprise your arsenal in your fight for virtue. Discover the right weapon for the right fight, and develop self-mastery.
As a Catholic man called to live out the vir or virtue of your identity as a beloved son of the Father, you must carry these weapons into every situation, every day. Jesus reveals man to himself, and that revelation includes a well-ordered and virtuous life. Remember that you have nothing to fear. Jesus has already won the battle; following his example, and armed with his grace, we can do the same. Become the man you are meant to be.
About the Author
Soren Johnson, a Catholic communications specialist, is a member of Holy Family Council 6831 in Leesburg, Virginia. This article is based on Into the Breach: An Apostolic Exhortation to Catholic Men.
Action Points:
Identify the main temptations that pull at you and the virtues that would help you overcome them. You may need to keep a list over a few days to complete this task.
To help develop the mindset of virtue, review the three temptations of Jesus in the desert. Imagine yourself in those situations and use Jesus' words to turn away the devil.
Resolve to gradually introduce into your routine the three spiritual weapons of fasting, simplicity and humble prayer. Which one is the most difficult for you to do? Why?
Articles