Keeping Watch
Contact Us
Can you feel the joy?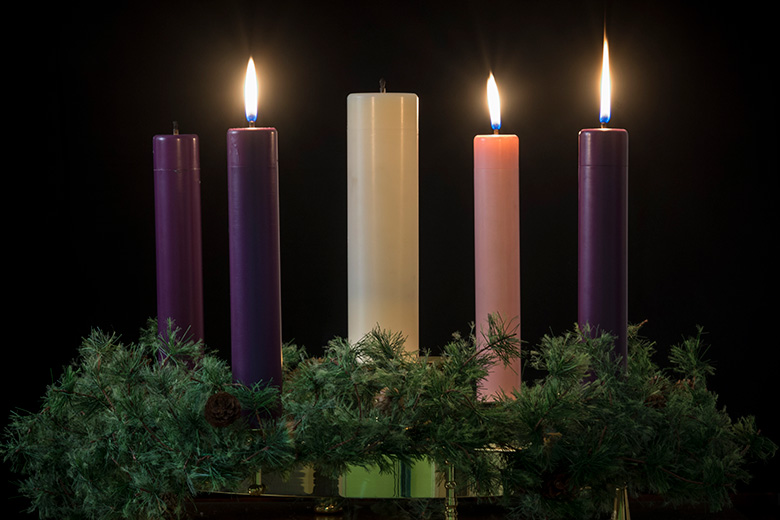 We're past the halfway point of our Advent journey toward Christmas. We illuminate the rose candle of our Advent wreath, signifying joy – a moment to rejoice that the feast we await is drawing nearer.
The Mass readings take a significant turn: they're still about waiting and hoping, but now they point not to the anticipated arrival of Jesus as Messiah, but to our expectant waiting for his Second Coming in glory at the end of the world. For both of these "advents," if we remain vigilant and prepared for his arrival, we should receive him with joy!
Third Week of Advent – Joy
This week, our focus is on joy. Our faith journey can be difficult at times, but we can always feel joyful because we know what awaits us if we persevere – we know Christ offers us the ultimate victory over sin and death. And that's something worth celebrating!
1. Begin a new Advent tradition by praying the "O Antiphons." These are seven antiphons, or responsorial prayers, that each begin by addressing Jesus using a title for the Messiah taken from the Book of Isaiah. (You may have heard some of them in the familiar hymn "O Come, O Come, Emmanuel.") Traditionally they are prayed before and after Mary's Magnificat canticle during Evening Prayer (Vespers) of the Liturgy of the Hours, but you can also pray them just with the Magnificat or as part of your regular nightly prayer. They are a wonderful way to reflect on our yearning for the coming of Christ. Here is a brief background and list of the "O Antiphons".
2. Host a guy's night. We're not talking keg party here, but rather a social engagement that celebrates fraternity. Share hors d'oeuvres and drinks, break out a deck of cards, watch the big game together, and have some honest conversations. Keep it light but don't avoid the personal and the sacred. Inviting a friend who might be adrift or experiencing personal struggles might open the door to helping him find some answers.
Looking for more faith formation resources, and brotherhood of Catholic men? Join the Knights today.
Articles