The Patient Ascent of Lent
Contact Us
Let's Build a Better Lent: Part 3
This series was written exclusively for Knights.net, the members-only digital portal from the Knights of Columbus. Looking for more great Catholic content? Join the Knights of Columbus today!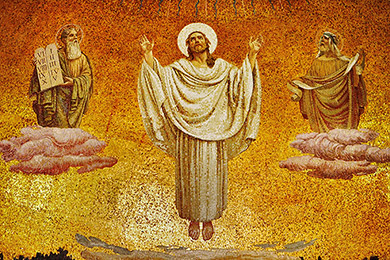 We began on Ash Wednesday with the reminder that we will die and return to dust, and a few days later, on the First Sunday of Lent, we followed Jesus into the desert to be tempted by the devil. But the season is not only about such dark moments. Now, in the second full week of Lent, the most recent Sunday Gospel brought us to a mountaintop with Apostles Peter, James and John, as Jesus is transfigured, revealing the glory of divinity normally hidden by his human nature.
The Apostles are awestruck as they see Jesus conversing with Moses and Elijah, yet Peter seeks to bring the scene back to earth: "Master, it is good that we are here; let us make three tents, one for you, one for Moses, and one for Elijah" (Lk 9:28-36).
Peter wanted to hold on to the moment, to live in Christ's glory there and then, not understanding that Jesus must suffer, die and rise to bring about the kingdom of God. There is a lesson here for us when we want to grab the glory of our faith before more fully developing the virtues of faith.
"Believe" is an action word; faith leads to good works. This week, focus on the Spiritual Work of Mercy that bids us to Instruct the Ignorant. If you have children, this could mean helping them with their homework or telling stories about how certain experiences of success or failure taught you important life lessons. You also might share your faith with another, a family member, a coworker, or a neighbor. In the second reading, St. Paul urges us to be "imitators" of him and "observe those who thus conduct themselves according to the model you have in us" (Phil 3:14-16). You can be a model of Christian conduct for someone else.
Patience is a theme of the Second Sunday of Lent, when we glimpse the glory of the promise yet are made to wait for its fulfillment. In an Old Testament scene of striking beauty, God tells Abraham to look up and count the stars and promises to make his offspring as numerous as those luminous bodies (Gn 15:5-12, 17-18). Abraham goes forth in faith knowing he would not live to see so many generations. The Gospel reading presents Jesus in his glory as the fulfillment of the Old Testament prophets Moses and Elijah. As much as Peter wants to live in that moment, he must wait for the promise of the kingdom in Christ. Think this week about what you are hoping for, both short term and long term, and ask God for the patience to persevere as you work and pray toward that goal.
Articles