Praying as a Knight
Contact Us
Why prayer is important, and how we should pray
This article was written exclusively for Knights.net, the members-only digital portal from the Knights of Columbus. Looking for more? Join the Knights of Columbus today.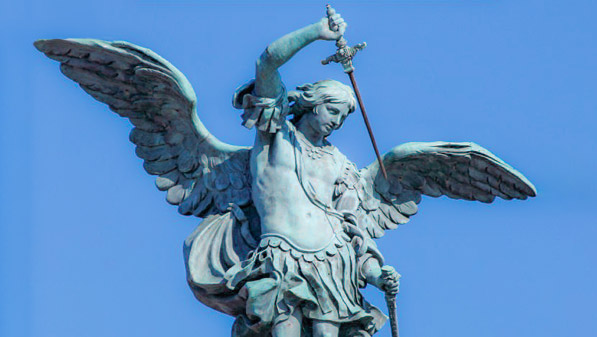 Prayer is foundational to the practice of our faith. It is our weapon in the daily battle for our souls and the protection of our families. As Catholic men and Knights of Columbus, we must strive to develop a routine of prayer and devotional practices according to the rhythm and routine of our day. Through mindful repetition, daily prayer will become a habit, a part of who we are and what we do. Yet the routine need not be difficult or complicated.
In its most basic form, prayer is simply lifting up your attention and your thoughts to God. It is acknowledging that God exists and desires to bring you to himself.
With these thoughts in mind, the Knights of Columbus offers here a plan for daily, weekly and monthly prayer and faith practices. This plan can serve as a starting point if you do not yet pray regularly, or as an outline for reflection if prayer is already a part of your daily routine.
Daily: Commitment to Daily Prayer
We should begin every day with prayer. Prayer is both a gift and an obligation through which we offer God praise and thanksgiving and seek his will. A perfect way to start the day is the Morning Offering, which you can do in your own words, or with this time-honored prayer.
Morning Offering
O Jesus, through the Immaculate Heart of Mary,
I offer You my prayers, works, joys and sufferings
of this day, for all the intentions of Your Sacred Heart,
in union with the holy sacrifice of the Mass
throughout the world, in reparation for my sins,
for the intentions of all my relatives and friends,
and in particular, for the intentions of the Holy Father.
Amen.
Daily Examen
You should end the day with prayer and a special Catholic practice called the Examen – a brief reflection on the day, recalling the good points and the times you may have failed to live as a follower of Jesus.
"How to End the Day"
This Columbia column provides an insightful instruction on evening prayer and reflection by Archbishop William Lori, supreme chaplain of the Knights of Columbus.
Weekly: Keep Holy the Sabbath
Sunday has been set aside for us by God for thanksgiving, rest and renewal. It is a time to recall that God rested from his work of creation on the seventh day and that Jesus rose on Easter Sunday. With attendance at Sunday Mass the focal point, we should keep holy the Sabbath with special observances and traditions that serve God and make time for loved ones.
"Sunday: A Day for Families"
In this column, Archbishop Lori suggests ways to keep holy the Sabbath.
Monthly: Confession
Sacramental Confession is a powerful practice for staying close to God and keeping yourself honest. If you have not been to Confession in a while, or if you seek a refresher, the Knights of Columbus provides a helpful Guide to Confession, based on the Ten Commandments.
"A School for Forgiveness"
Archbishop Lori writes about the healing aspects of the sacrament in his column.
Time in Adoration
Once a month, every Knight should schedule time for adoration before the Blessed Sacrament. Jesus is really and truly present in the consecrated host, either shown in the monstrance during formal exposition of the sacrament, or reserved in the church's tabernacle. You can spend time in church alone, or join with others in your parish.
If you think that the Apostles were specially blessed to be in the presence of Jesus, remember that the same graces are available to you when you come before his presence in the Blessed Sacrament.
"Come, Let Us Adore Him"
Archbishop Lori explores the great benefits of spending time with Jesus.
Let us commit to these daily, weekly and monthly practices, to become the Catholic men God calls us to be.
A Deeper Spiritual Life
The Knights of Columbus provides a range of prayer resources and devotional items to keep you focused on your life of faith.
Knights are also encouraged to become familiar with the rosary, which is like a little catechism in its 20 mysteries. You may access the "How to Pray the Rosary" pamphlet to learn more about this powerful prayer.
Articles