| | |
| --- | --- |
| Panel Discussion on 'The Word of God' | |
'The Word's Face'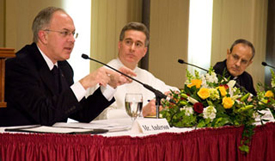 The Word of God is a Person, and we are called to intimate friendship with Him, said Supreme Knight Carl A. Anderson and Father Julián Carrón, president of the Fraternity of Communion and Liberation, at a recent panel discussion in New Haven.
Both Anderson and Father Carrón took part in the event at St. Mary's Church in New Haven, Jan. 19, offering their unique insight as participants in last fall's Synod of Bishops in Rome.
Speaking on "The Word's Face: The Word of God in the Life and Mission of Every Believer," they explained the importance of the synod and its subject, the Word of God, and shared with the audience their own reflections on "how we begin" to enter into friendship with Jesus.
Anderson started the discussion by pointing out that Scripture has a key role in Pope Benedict XVI's challenge to a "pervasive secularism that has made it increasingly difficult to live the life and witness of the Christian community and individual Christian."
In both of his encyclicals, Deus Caritas Est and Spe Salvi, Anderson said, the pope uses Scripture to renew a Christian approach to the issues the world faces today.
By drawing closer to the Lord through a more profound reading of Scripture, Anderson said, we will also develop a more Biblical way of thinking to overcome today's secular mentality, if we allow ourselves to be guided by the tradition of the Church.
Father Carrón reminded the audience that the Word of God is not merely a book, as some would think, but the Person of Jesus Christ. To treat it otherwise is a reduction, he said, of man's deepest hunger – to encounter God's Word in the flesh.
Many of these encounters, Father Carrón said, come through our friendships with "witnesses," "men changed by the presence of God in the Church."
"Christ remains contemporary to every man through these witnesses," Father Carrón said, pointing out that most people come to a church for the first time because they already know someone there. He stressed that without this "incarnation of the Christian witness … Christianity is reduced to either a doctrine or ethics."
Anderson added his personal reflections to this, saying that our own families' experiences provide beautiful context to our readings of Scripture. For example, he said, any father could place himself in Abraham's position when God asks him to sacrifice his only son – and that story in the Old Testament is only a prelude to the Son of God's death on the Cross.
"For me, the mystery is so much greater than what can be comprehended," he said, adding that "this idea of entering Scripture … is so much greater than what can revealed in the first reading, the second reading, the hundredth reading."
The panel discussion was moderated by Father Peter John Cameron, OP, editor-in-chief of "Magnificat." It took place, fittingly, in the basement of St. Mary's Church, where Father Michael McGivney founded the Knights of Columbus more than 125 years ago.