Knights of Columbus and John Paul II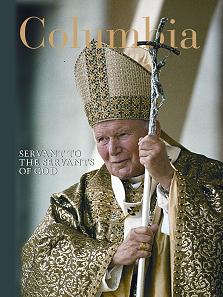 The September 2003 issue of Columbia magazine featured a series of special articles highlighting Pope John Paul the Great's service to the Church and world over the preceding 25 years of his pontificate. Articles also highlighted the many ways Knights of Columbus expressed solidarity with Pope John Paul.
Pilgrim Pope
by Philip Pullella
John Paul has traveled the world over preaching the Gospel. On many occasions his visits have changed history.
Path to Peace
by Stanislaw Grygiel
John Paul has spent 25 years in service to the truth of the Beatitude: "Blessed are the peacemakers."
A Priest Forever
by Father Antonio López, FSCB
John Paul has repeatedly urged priests to rediscover and respond to their own vocation.
Wholly Family
by Elizabeth Fox-Genovese
From the early days of his life as a priest to today, John Paul has championed the family as the fundamental building block of society.
'Be Not Afraid'
by David S. Crawford
In his writings and teachings, John Paul has helped the Catholic laity to realize their unique call to holiness in the world.
The Solid Foundation of the Church Today
by Supreme Knight Carl A. Anderson
John Paul II has built a great legacy in defense of the family.
Apostle, Prophet, Teacher, Evangelist and Pastor
by Supreme Chaplain Bishop Thomas V. Daily
For 25 years our Holy Father has been a firm guide for the Church.
Men of Action
by Dominican Father Gabriel B. O'Donnell
Pope John Paul and Father McGivney's shared vision for the laity.
A High-Energy Papacy
by Greg Burke
One reporter's notebook on the travels and triumphs of John Paul's pontificate.
Friend and Faithful Critic
by Russell Shaw
Pope John Paul II has praised the United States for its principles, yet opposed some of  U.S. policies and practices.
Celebrating Family Life with the Pope
by Monica and Bill Dodds
Follow the pope's example and make events in the life of your family days of praise and thanksgiving.
Timely and Timeless
by Bernard Casserly
Twenty-five years of teaching from the Holy Father.