Building a Culture of Life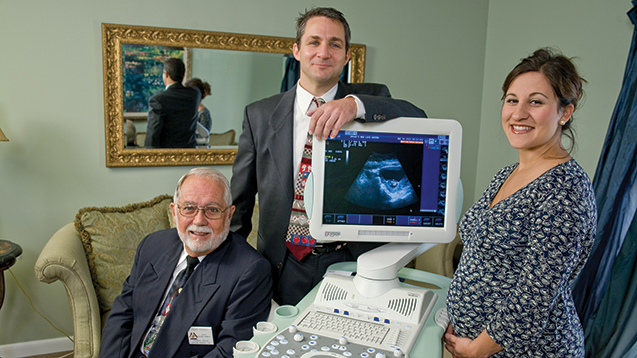 We are called to build a civilization of love based on the principles of the Gospel. And the cornerstone of that civilization must be a culture of life. But in the United States alone since the Roe v. Wade decision in 1973, more than 54 million children have been the victims of abortion.
We must work to build a culture of life in many ways. In the way we vote, we must advocate for laws that protect the life of all people from conception to natural death. In our own actions, we must be witnesses to the Gospel of Life. And in our outreach to women in need, we must be a gentle resource assisting them in their decision to choose life.
One of the most effective ways in which we have helped thousands of women save their children is through our Ultrasound Initiative.
Providing ultrasound machines to pregnancy resource centers has enabled many thousands of pregnant women to see that their unborn child is a living human being. And thousands of them have decided to have their babies.
The Supreme Council shares the cost of these machines with state and local councils. Since the program began three and a half years ago, the Knights of Columbus Ultrasound Initiative has enabled the purchase of 268 ultrasound machines in 44 states and Canada, with a total value of more than $14.2 million.
It is, without doubt, the most effective pro-life program we have ever undertaken. It saves lives each and every day. And with each woman who sees an ultrasound image of her child, we continue to turn the tide of public opinion, one person at a time.
Knights of Columbus are in the forefront of marches for life all around the world: in the U.S., where the annual March in Washington has now been supplemented by similar events in dozens of state capitals as well as the West Coast Walk for Life in San Francisco; in Canada, where the March for Life in Ottawa drew more than 15,000 people this year, and where marches are now being held in every provincial capital; and in the Philippines, where Knights helped lead Walk for Life events in Luzon, Visayas and Mindanao this year.
Every major polling organization has confirmed what we first discovered in our Knights of Columbus-Marist Poll in 2008: that public opinion has shifted significantly in the pro-life direction. Consider also that even 71 percent of those who describe themselves as "pro-choice" in that poll favor significant restrictions on abortion.
We seek nothing less than the transformation of our culture into a new culture of life. And the foundation of this effort must be the bedrock of the inviolable dignity of human life at every stage and the realization that in the great family the Lord intends for us, we are all our brother's keeper.