"Proclaim Liberty Throughout all the Land"
10/1/2012
Supreme Knight Carl A. Anderson
From the Atlantic to the Pacific, North America is truly a Christian continent, and from coast to coast, we are never far from a reminder of our Catholic roots. We meet today not far from Mission San Juan Capistrano, founded in 1776 by Blessed Junipero Serra. This mission, and the others along California's El Camino Real, remind us of the foundations of our Christian continent. These missions were critical to the evangelization of this hemisphere, and are reminders of our own responsibility. Following in Father Serra's footsteps, we are called to preach the Gospel in word and deed, building up the civilization of love.
Of course, 1776 is a year important to all of the United States for another reason. That was the year the Declaration of Independence was signed, and among its signers was one Catholic, Charles Carroll of Maryland.
It was not surprising that a Catholic would come from Maryland, since it was the colony founded for Catholics seeking the religious liberty that they could not find in England.
Carroll may have been the only Catholic to sign the Declaration of Independence, but there was a particular hallmark common to America's founders: They were men of faith. And their understanding of God-given rights was the foundation of their design for the new American republic. They understood — as they made clear in the Declaration of Independence — that liberty was a right endowed by our Creator.
Before he became pope, Cardinal Joseph Ratzinger wrote, "Reason needs to listen to the great religious traditions if it does not wish to become deaf, blind and mute concerning the most essential elements of human existence."
In acknowledging our Creator as the source of our rights, the Founding Fathers understood this concept well. In fact, they believed that the liberty they sought was not just civil liberty, but religious liberty as well. Fifty years after the signing of the Declaration of Independence, Charles Carroll wrote that he saw that document's principles "as the best earthly inheritance their ancestors could bequeath" and he prayed "that the civil and religious liberties they have secured may be perpetuated to the remotest posterity and be extended to the whole family of man."
That same spirit is embodied also in the First Amendment, in which religious freedom is the first right enumerated in the Bill of Rights of the U.S. Constitution.
Our country's foundational documents, the Constitution and the Declaration of Independence, were born in Independence Hall in Philadelphia. It is also home of the famous Liberty Bell. Inscribed on that bell, and doubtless an inspiration to our founders, are these words from the Book of Leviticus: "Proclaim liberty throughout all the land, unto all the inhabitants thereof" (Lev 25:10). And when religious liberty anywhere in the land has been threatened, Catholics from the time of Charles Carroll to today have responded.
One of those who responded early was John Carroll, the cousin of Charles. He was the first bishop appointed in the United States and the first archbishop of Baltimore. His work continues today with his successor, and our supreme chaplain, Archbishop William Lori, whose vital work on behalf of religious liberty is well known to us all.
Throughout the history of America, Catholics have stood up to protect our First Amendment rights to religious freedom. And at many times, the Knights of Columbus has taken the lead in these endeavors.
There were the Nativists and Know-Nothings, whose hostility to Catholics made the work of Father McGivney and the Knights so important. Then there was the Ku Klux Klan, who burned fiery crosses against brother Knight and presidential candidate Al Smith. The Klan also supported the persecution of Mexican Catholics during the 1920s and opposed the peaceful efforts of the Knights to end the persecution there.
In one state to our north, Oregon, it was again the Klan that sponsored legislation banning Catholic schools in that state in 1922. That was a time when there were more members of the Klan than there were Catholic men in the state of Oregon. But we stood with those Catholic sisters who bravely refused to give up their First Amendment rights. The Knights of Columbus supported the sisters' lawsuit all the way to the Supreme Court, and the victory in the landmark case Pierce v. Society of Sisters was a key decision that continues to protect the right to a Catholic education today.
Why did those sisters stand so firm? And why did the Knights of Columbus support them? It was because we understood that, in the words of Blessed John Henry Newman, "conscience has rights because it has duties." We could not stand aside and let the state eliminate parental and church rights in education.
Through the years that followed, the Knights have continued this work for religious freedom. Harkening back to the Declaration of Independence and President Lincoln's words at Gettysburg, we were instrumental in adding the words "under God" to the Pledge of Allegiance — and we have defended their right to be there ever since.
In short, the history of Catholics in the United States is a history of defending religious freedom. And the work of the Knights of Columbus on behalf of religious freedom is a key part of that history.
First Amendment religious freedom is not something we chose to care about last week, or even last year. It is something that has been part of the Catholic experience and the Knights of Columbus experience from the very beginning. And whenever our First Amendment freedom is threatened, we will vigorously defend it.
And so today, as we meet in this 130th Supreme Convention, we make the words of our nation's founders our own: "Proclaim Liberty Throughout All the Land." In doing so, we are consistent not only with our faith, but with our constitutional rights and our civic duty.
We take as our inspiration these words of Charles Carroll: "God grant that this religious liberty may be preserved until the end of time, and that all believing in the religion of Christ may practice the leading principle of charity, the basis of every virtue."
Knights of Charity
Our historical and recent work for religious liberty has always been motivated by our commitment to charity. And by every measure, in the past year we have scaled new heights in our service to our families, to our Church, to our communities and to those in need.
As we know well, Father McGivney established charity as the leading principle of our Order, and for the 12th consecutive year, we have again set an all-time record for our donations to charitable causes. Last year, our charitable donations grew by nearly $3.4 million, to more than $158 million. That total included more than $29 million from the Supreme Council and almost $129 million from state and local units.
Over the past decade, the charitable donations of the Knights of Columbus have totaled more than $1.4 billion.
For the third consecutive year, Quebec led all jurisdictions in donations to charity, with a total of more than $11.3 million. Ontario came in second, and also finishing among the top 10 were Texas, California, Michigan, Illinois, Florida, New Jersey, New York and Ohio.
For the 15th consecutive year, British Columbia led all jurisdictions in the amount contributed per member. B.C. Knights donated an average of $279 per member. Newfoundland was next, with $192. They were followed by Alaska, New Brunswick, Nova Scotia, Ontario, Virginia, Saskatchewan, South Carolina, and Quebec.
For the 15th consecutive year, we also set a new record for volunteer hours donated to charity. Knights of Columbus around the world donated more than 70 million hours of charitable work. Independent Sector, which estimates the value of volunteer time, puts the value in 2011 at $21.79 per hour, and that means that the value of the volunteer hours we donated last year was more than $1.5 billion.
Over the past decade, individual Knights have donated more than 664 million hours to charity, and the value of their time was nearly $14.5 billion.
Once again, our jurisdictions in the Philippines set the pace in volunteering. Mindanao edged out Texas for first place, with a total of more than 4.7 million hours. Luzon came in third, followed by Florida, California, Ontario, Visayas, Missouri, Quebec and Michigan.
Prince Edward Island turned in the best record for individual volunteering, with more than 125 hours per member. Guam came in second, followed by Alaska, British Columbia, Puerto Rico, Mexico Northwest, Saskatchewan, Delaware, Nova Scotia, and Washington state.
These are impressive numbers. But the numbers tell only part of our story. We get a more complete picture when we meet the Knights whose faith, hard work and dedication are reflected in these numbers.
Consider, for example, the Order's charitable work to support Special Olympics, founded by Eunice Kennedy Shriver and her husband, Brother Knight Sargent Shriver. Sargent Shriver worked tirelessly for the intellectually disabled, and though he went to his eternal reward last year, his example continues to inspire us.
Knights were there at the very beginning to provide extensive support for the very first Special Olympics in Chicago in July 1968, and we've been there ever since.
Once again, the numbers are impressive. Last year, more than 106,000 Knights volunteered nearly 300,000 hours to assist Special Olympics. Councils at all levels donated more than $3.3 million. And in the 44 years since that first event in Chicago, Knights of Columbus have donated nearly $400 million to Special Olympics.
Brother Knights in Arizona are a good example. Last year, Arizona Knights donated $37,000 to Special Olympics, and provided hundreds of volunteers at 56 Special Olympic events. Arizona Knights also arranged for a "Field of Dreams" experience for Special Olympic athletes, bringing them to an Arizona Diamondbacks game. They were able to attend batting practice, and had the opportunity to meet players and get autographs from the Diamondbacks and the Philadelphia Phillies.
The Major League players, including brother Knight and Phillies' centerfielder — and now an L.A. Dodger — Shane Victorino, provided a wonderful experience for these young athletes.
And our work with Special Olympics is just the beginning. Knights of Columbus councils donated more than $12.3 million to support the intellectually disabled last year, in addition to the $3.3 million for Special Olympics. Local councils also donated nearly $4 million to activities benefitting people with physical disabilities.
One of our newest and fastest-growing programs for the physically disabled is our wheelchair program. It is operated in conjunction with the Global Wheelchair Mission, which is a partnership of the American Wheelchair Mission, led by brother Knight Chris Lewis, and the Canadian Wheelchair Foundation.
Over the past year, Knights have delivered thousands of wheelchairs across the globe, in Ethiopia, Haiti, the Holy Land, Vietnam, the Philippines, American Samoa and Mexico, as well as to our military veterans in Maryland, Georgia, Florida, Texas, Nevada, Arizona and California.
In Mexico, 32 Knights from seven states, including the state deputies of California and Nevada, traveled to Mexico City for wheelchair distributions.
Knights from British Columbia, California and Florida have brought wheelchairs to Vietnam twice in the past year.
In Israel, we distributed wheelchairs to Christians on the West Bank, working with Caritas Jerusalem and the Latin Patriarch, His Beatitude Fouad Twal, who has been a Knight since his days as a seminarian in the United States.
Perhaps the most touching moment came when our team visited the wedding church in Cana and learned from a Franciscan nun about a woman who had recently lost a leg to diabetes and could no longer attend Mass. The Knights had one wheelchair with them, and they brought it to the woman's home, which is one of five homes connected to one another and housing 38 family members. That family has lived in Cana for more than 800 years, and they consider themselves to be descendants of the first Christians.
Knights of Columbus also support Habitat for Humanity. Last year, Knights donated 1.3 million hours to working on Habitat projects, and provided more than $1.7 million in financial support. And behind those numbers stand members like those of Father Bartek Council 9431, in Jackson, Wyo. They rolled up their sleeves, not once, but twice this past year to help with Habitat "builds."
In Iowa, members of Council 5038 participated in a similar effort sponsored by a group called Rebuilding Together Greater Des Moines. More than 35 Knights and family members completely rehabilitated the interior of the home of an individual, who has been disabled ever since suffering a brain injury 25 years ago. Over a three-day period, they replaced walls, installed new insulation, storm windows and carpet, painted, and supplied new curtains and linens.
In Massachusetts, Knights from Council 99 in Fitchburg pitched in to build a wheelchair ramp at the home of 9-year-old Anthony Vorse, right before Christmas. Anthony has cerebral palsy, and cannot walk without assistance. After several rounds of surgery, he can move short distances with a walker, but climbing stairs is another matter. His mother, Sandy, can no longer carry him to the school bus in the morning.
Looking for a solution, Sandy contacted 25 organizations, but all of them turned her down for one reason or another. Then the Knights stepped in and contributed both the $6,000 for materials and the labor needed to build the ramp for their home.
The Knights of Columbus is in its third year of a unique partnership in Haiti with Project MediShare. Following the earthquake of January 2010, Project MediShare, which is based at the University of Miami Medical School, set up a large field hospital next to the Port-au-Prince Airport to treat thousands of people. Within a few weeks, with the help of the Global Wheelchair Mission, we arrived at that MediShare facility with a shipment of wheelchairs.
We soon decided to continue our partnership with Project MediShare in providing artificial limbs to the children who had suffered amputations. We pledged up to $1 million to make available prosthetic limbs to every one of the estimated 1,000 Haitian children who needed them. The program has been enormously successful, initially under the leadership of our late supreme secretary, Emilio Moure.
We have followed up by funding an amputee rehabilitation center named for Emilio, as well as a prosthetics laboratory. Today, we are supporting MediShare's initiative to train local Haitians to manufacture and assemble prosthetic devices, and for them to provide rehabilitation services so that this care can continue sustainably into the future.
We have also helped sponsor a very special amputee soccer team, which many of you met at last year's convention in Denver. In the fall, we brought Team Zaryen to the United States for the "Haitian Inspiration Tour," in which they worked for several days teaching amputee soccer to injured U.S. soldiers at Walter Reed Medical Center in Washington.
And this is far from being the only effort by Knights to help the people of Haiti. Councils in Virginia provide significant support to a group called Medical Missionaries, headed by several doctors who are Knights, which operates the only modern medical clinic in the central plateau of Haiti, around the city of Thomassique. St. Joseph the Worker Council 10921 in Orefield, Pa., provided funds for a parish medical mission to Haiti, and several members went along to provide support in Port-au-Prince. The medical team provided services to some 1,100 Haitians. And in February, Florida Past State Deputy Bob Read led a team of Knights bringing wheelchairs to some 280 recipients in Port-au-Prince and the Central Plateau.
Just last month in London, we worked with the Bishops Conference of England and Wales to cosponsor a conference titled "Everybody Has a Place." This international conference dealt with the intersection between theology, disability and sport, in preparation for this year's Summer Olympic Games in London. We previewed a documentary on our work in Haiti as part of our presentation on the Order's extensive history of helping organize sporting events for those with disabilities.
In Africa, our effort to help AIDS orphans is well underway, with a new primary school being built in Uganda, and a similar project due to begin soon in Kenya. Our partners in this effort are the Apostles of Jesus, the first community of missionary priests and brothers to be founded in Africa.
Today, 130 years after Father McGivney first encouraged us to help widows and orphans, there is no group of orphans more in need of our help than the 15 million children orphaned by the AIDS epidemic in sub-Saharan Africa. It is especially gratifying to be able to work in this endeavor with Father Paul Gaggawala, our former Pennsylvania state chaplain, who is now director of mission promotion for the Apostles of Jesus.
Much of our charitable work, of course, happens right in our own backyards.
Participation in our Food for Families and Coats for Kids programs continued to grow in the past year. More than 800 councils participated, donating a total of nearly 2.4 million pounds of food for families in need, and individual Knights volunteered more than 292,000 hours in the food drives.
California councils were especially active, putting in more than 55,000 hours of volunteer time and donating more than 35 tons of food.
Especially noteworthy were Knights in Tillamook, Ore. They established a council vegetable garden, and over the course of the season, they provided more than seven tons of fresh food for the hungry.
The 40 Cans for Lent program, begun by Our Lady of Guadalupe Council 8306 in Helotes, Texas, has been adopted by many councils this year, helping thousands of families.
And I am happy to report that through our Coats for Kids program, 725 local councils distributed more than 32,000 new coats throughout the United States and Canada.
In addition, last year nearly 419,000 donors gave blood at Knights of Columbus sponsored blood drives.
Most of the charitable work that is done by the Knights of Columbus is done quietly. Much of it goes unnoticed. We do not engage in charity to seek publicity. But occasionally, we do receive recognition for the work we do.
That happened last December in Italy, when the city of Rome dedicated a public square to the Knights of Columbus. Located adjacent to the ancient Baths of Caracalla, the new "Largo Cavalieri di Colombo" commemorates nearly a century of our service to the people of Rome. This service has included youth programs and facilities, humanitarian assistance during and following World War II, and assistance to various cultural projects in the city. Many have come to Rome in the city's nearly 3,000-year history, but few have had their service honored in such a permanent way.
Charity does more than just help people who need something. As Charles Carroll understood, charity is consistent with, supportive of and necessary to human freedom. It is not simply that what we give helps free people from hunger, cold, homelessness and poverty. Charity is essential to the very idea of freedom, because charity creates a bond among us that makes freedom possible.
Pope Benedict once wrote, "Since man's essence consists in being-from, being-with and being-for, human freedom can exist only in the ordered communion of freedoms." Said another way, charity, unity and fraternity are true and necessary supports of freedom.
Membership Growth
A true measure of the strength and relevance of the Knights of Columbus today is our continued membership growth. I am proud to report to you that for the 41st consecutive year, our membership has grown. It reached a new all-time high of 1,829,121 as of the end of our fraternal year on June 30.
In the past year, we have added 215 new councils, bringing their total to 14,377. In other words, more than 14,000 communities now benefit from the good works of the Knights of Columbus.
Last year, 86 new councils were established in the Philippines, and I had the pleasure of personally congratulating our brother Knights there in April, when I attended the Ninth Philippine National Knights of Columbus Convention in Manila. There are now more than 290,000 Knights in the Philippines, and their enthusiasm and faith are truly extraordinary.
While I was in Manila, we conducted a ribbon-cutting ceremony at the new Father McGivney Multimedia Studio located at the headquarters of the Catholic Bishops' Conference of the Philippines. This state-of-the-art facility, a gift from the Supreme Council, will enable the Church to use the most modern technology to educate and evangelize in the largest Catholic country in Asia.
We were honored to have the president of the Philippine Bishops' Conference, Archbishop José Palma, bless the new studio. He also blessed a new statue of Father McGivney outside the Knights of Columbus Headquarters in Manila, and a new oratory there as well.
Many of our other jurisdictions also had strong membership growth, including Texas, which brought in more than 2,100 new members; California, which gained nearly 1,600; and Florida, which added more than 700.
I am also pleased to report that every jurisdiction in Mexico grew last year, and 14 new councils and more than 1,000 new members were added there. And the Dominican Republic added seven new councils and more than 350 new members.
In Europe, our membership is also increasing. Poland added 10 new councils, and membership there has now grown to more than 2,200 Knights.
We have seen how much good 1.8 million committed Knights can do. But just imagine how much more we could do; how much more we should do. This is why we must invite more men to join us. We do this not for ourselves, but for the good of our communities, our Church, our society, and for the men themselves, who join us in this work.
We are asking every council to recruit at least one new member every month. That is a very achievable goal, and we owe it to our fellow parishioners to give them the opportunity to live out their Catholic faith with us in charity, unity and fraternity.
The combined Catholic population of the countries in which we are active is more than 300 million. Our potential is tremendous. Our fellow Catholics need us, and we need them to do even more good work.
Our goal must be to invite every eligible Catholic man to join the Knights of Columbus and become a part of the greatest lay Catholic organization in the world. If every council recruited at least one member every month during the coming year, our membership would grow by nearly 175,000. But we could invite even more men to join us, and together we could be an enormous force for good in a world that so obviously needs the love of God and love of neighbor, which are reflected in our work.
Youth
One can do good work at any age. Father McGivney was 29 when he founded the Knights of Columbus. And we should make it a priority to attract college-aged men into the Order. By recruiting them now, we can help them give a lifetime of service and of witness to their faith.
This year, we added eight new college councils. We now have a total of 277 college councils, with nearly 25,000 members.
And these young men can do great things. This year, Council 6375 at Georgetown University in Washington, D.C., was the winner of the Outstanding College Council Award. They continued to organize and sponsor the annual Cardinal O'Connor Conference on Life, which is held in conjunction with the annual March for Life in Washington. Their charity projects include volunteering with Hands-on Housing, which renovates and repairs apartments for low-income families, and bringing meals and coffee to the homeless. And they strengthened body and soul with their "Masketball" program in which they gather together for Mass and then play basketball together.
And for younger men during the past year, we had more than 26,000 participants in our Columbian Squires program. The number of Squires Circles has grown to 1,613, the highest number in our history. In addition, over the past year, Knights of Columbus councils sponsored a total of nearly 15,000 Boy Scouts in the United States and Canada in 612 scouting units.
Last year, our councils donated more than $1.2 million to scouting activities, $3.8 million to other youth groups, and nearly $7 million to scholarships and educational support. And brother Knights donated more than 8 million hours to youth activities.
These local programs are supplemented by a number of scholarship programs sponsored by the Supreme Council. Last year, 20 scholarship programs provided more than $1.4 million to 606 students at institutions of higher learning.
Knights of Columbus councils continued to support our annual Free-Throw Championship. This year, more than 3,300 councils sponsored local competitions for boys and girls aged 10-14. More than 121,000 young people participated this year. And 9,000 others participated in our Soccer Challenge program, with competitions sponsored by more than 1,200 councils.
Last August, just a week after our Supreme Convention, we hosted the English language World Youth Day site in Madrid, Spain. The Love and Life Centre was set up in Madrid's premiere 12,000-seat arena, and was staffed with the help of our college Knights. It was a popular destination for the English-speaking pilgrims from the U.S. and Canada, as well as from Britain, Australia and many other countries, and tens of thousands of pilgrims passed through our doors.
We partnered with the Sisters of Life, and were assisted by Holy Cross Family Ministries, Salt and Light Television, FOCUS, World Youth Alliance, the Pontifical John Paul II Institute for Studies on Marriage and Family, and the Apostleship of Prayer. Our programming included Masses, Eucharistic adoration, talks, entertainment and panel discussions on topics such as faith and reason, religious liberty and the theology of the body.
Cardinal Timothy Dolan, Archbishop Charles Chaput, Supreme Chaplain Archbishop William Lori and I were just a few of the many speakers who spent countless hours with the young people who gathered for the event. I saw firsthand how blessed the Catholic Church and the Knights of Columbus are to have our future in the hands of such dedicated young adults.
And many who came to World Youth Day and to our site were able to do so because Knights of Columbus councils at home had raised thousands of dollars to help defray the costs of those traveling to Madrid.
Fourth Degree
One cannot speak of liberty without also speaking of patriotism. And I am pleased to report that membership in our patriotic degree grew during the past fraternal year, to a record of more than 330,000 members. Nearly 18,000 men became Sir Knights last year, and we added 64 new Fourth Degree assemblies, for a total of 3,034 assemblies around the world.
The Fourth Degree is also providing critical support for a new vocations program to increase the number of Catholic chaplains in the United States Armed Forces. These brave troops who protect our liberty deserve and need our spiritual support. They have been able to count on it since World War I, when the Knights of Columbus helped provide chaplains to ensure their sacramental life.
And today, because of the good work of our Fourth Degree, that support continues. In the past year, our assemblies raised nearly a quarter-million dollars to support seminarians intending to become military chaplains.
Knights and the Armed Services
Over the past decade, we have made a special effort to reach out to members of our armed forces. It is estimated that Catholics make up one-fourth of U.S. military personnel, and they can be found at 220 military installations in 29 countries around the world.
We currently have four combat zone roundtables in Afghanistan and one in Iraq. And there are active Knights of Columbus councils at 52 permanent military installations, including five in Japan, three in Germany, three in Italy, one in England and one in Korea.
Earlier this year, I had the honor of visiting our brother Knights at Bishop Kaising Council 14223 at the Yongsan Garrison just outside the South Korean capital of Seoul. I was joined on this visit by Auxiliary Bishop F. Richard Spencer of the Archdiocese for the Military Services, USA. I conveyed to our members there our deep appreciation for their work in protecting our freedom. As I stood with several of our military members and looked out over the DMZ into North Korea, the importance of their work and our support of these heroic men could not have been clearer.
While I was in Korea, we added a new dimension to our program for the military. We established the first overseas military assembly. Nearly 40 members of Council 14223 joined the patriotic degree, becoming the first Sir Knights of Bishop Joseph Estabrook Assembly, named for the highly respected auxiliary bishop who died of cancer last February. Bishop Estabrook was a Fourth Degree Knight and a former Navy chaplain. In keeping with our support for our clergy and our troops, Virginia Knights provided an honor guard for his wake and funeral.
Our support does not end when our troops retire. After our Army Hut service in World War I, we continued our work by helping thousands of veterans with job training and placement. Our service to those who have served continues to this day. We maintain a close relationship with the Veterans Affairs Voluntary Service, and currently have more than 1,100 Knights serving veterans at 131 VA medical facilities. These brother Knights volunteered more than 40,000 hours last year, "serving those who served."
We also pause today to recall those brother Knights who paid the ultimate sacrifice to defend liberty.
Since we met last year, five Knights and one former Squire have been killed in action.
Army Chief Warrant Officer Bryan Nichols was killed in Afghanistan last August. He was a member of St. Joseph's Council 1325 in Hays, Kan. He is survived by his wife, Mary, and son, Braydon.
Army 1st Lt. Timothy Steele was killed last August in Kandahar province. He was a member of Council 8250 at West Point, and is survived by his wife, Meaghan, and daughter, Liberty.
Army Pfc. Brandon Mullins also died in Kandahar province last August. He had been a member of Squire Circle 3678 in Jonesboro, Ark., and is survived by his wife, Ashley.
James Coker was a civilian working for the U.S. Army Corps of Engineers when he was killed in Afghanistan last September. He was a member of Bishop Cunningham Council 10904 in Cicero, N.Y., and is survived by his wife, Marli, and their three children.
Air Force Tech Sgt. Matthew Schwartz died in Helmand province in January. He was a member of Council 801 in Cheyenne, Wyo., and is survived by his wife, Jenny, and their three daughters.
Finally, we mourn the loss of Army 1st Lt. Mathew Fazzari, who also died in Afghanistan in June. He was a member of St. Thomas More Council 11134 in Spokane, Wash. He is survived by his wife, Tovah, and sons Dominic and Samuel.
Today, we honor the ultimate sacrifice of these men. We extend our heartfelt sympathy to their families. We also extend to the families of the fallen our financial support. For the children of those active members who died in combat, our Matthews and Swift Educational Trust stands ready to help pay their college education expenses at a Catholic institution of higher learning. Last year, six children attended college with support from this program.
This past Memorial Day, we honored all those who have served our country in our armed services by recalling President Franklin Roosevelt's prayer to the nation during the Normandy Invasion through a new, nationally televised commercial. We recall his words again today in memory of our most recently fallen heroes:
Almighty God: Our sons, pride of our Nation, this day have set upon a mighty endeavor, a struggle to preserve our Republic, our religion, and our civilization, and to set free a suffering humanity. Lead them straight and true; give strength to their arms, stoutness to their hearts, steadfastness in their faith. … They fight to liberate. They fight to let justice arise, and tolerance and good will among all Thy people. They yearn but for the end of battle, for their return to the haven of home. Some will never return. Embrace these, Father, and receive them, Thy heroic servants, into Thy kingdom. … Amen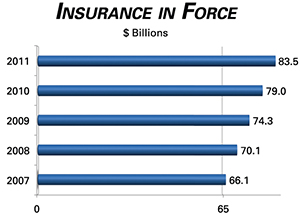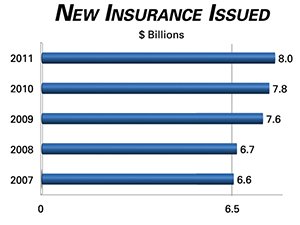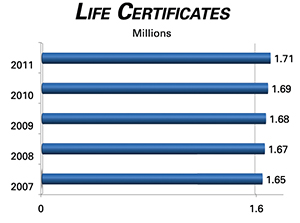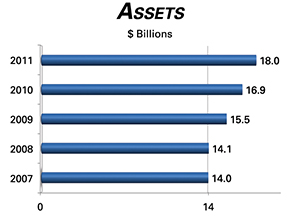 Insurance and Investments
The Knights of Columbus was born 130 years ago, just as the United States was sinking into a deep recession that lasted three years.
There can be no doubt that difficult economic times were very much on Father McGivney's mind when he encouraged the men at St. Mary's Church to make the financial protection of their families a high priority.
Since 2008, the world has again faced economic difficulties. Nearly any company can succeed when times are good, but it is much harder in a difficult economy like the one we now face. Even in this economy, the Knights of Columbus continues to grow in strength, and I am happy to report that you can be very proud of the work that our insurance and investment staffs have done over the past year.
Our insurance in force now totals $86 billion, an increase over last year of $5 billion. Our total assets have grown 6.9 percent, to more than $18 billion. With a surplus of $1.7 billion, our surplus ratio is one of the highest in the industry.
We issued an all-time high of $7.9 billion of new life insurance last year. Our new 10-pay life insurance product, in which you have a fully paid-up policy in just 10 years, has been popular, as has been our other new product — individual disability income insurance.
We are now ranked number 912 on the Fortune 1000 list of America's largest companies, 55 places ahead of our ranking in 2007. And over the past five years, our insurance sales have grown by more than 23 percent, while sales in the industry overall have declined by nearly 7 percent.
Our lapse rate remained at only 3.6 percent, which is half the industry average. In other words, more than 96 percent of Knights who buy our life insurance keep it. That very high persistency rate is one of the factors that was cited by A.M. Best when they gave us their highest rating, A++, for the 37th consecutive year.
They also praised our "strong risk-adjusted capitalization" and "consistently positive statutory operating results." Our long-term care insurance grew at a rate of nearly 8 percent, and it provides a very valuable benefit for many Knights and their families.
All of this is possible because of the excellent work of our insurance agents — brother Knights in the service of their brother Knights — remaining true to Father McGivney's vision of protecting Catholic families and helping them achieve financial freedom.
The number of Knights of Columbus general agents and field agents is now at 1,447. They are exceptional men, and we are very proud of them.
Through their work, the Knights' protection of Catholic families has soared to extraordinary heights. Last year, we paid death benefits to Knights of Columbus families totaling almost $280 million. At the same time, we paid more than $352 million in dividends to our policyholders — $12 million more than last year.
Since our founding, we have paid more than $3.4 billion in death claims. And we have also paid more than $11.3 billion in living benefits.
For their excellent work in safeguarding the financial future of our members and their families, we must also recognize the important contribution of our investment department. Our investment income last year totaled more than $878 million. That is an extraordinary accomplishment in the current low interest rate environment.
During the past year, we invested approximately $13 million every day, totaling more than $3.2 billion.
Despite the current very low interest rate environment, our new purchase rate was 4.4 percent, an increase over the previous year's rate. And we did not sacrifice quality to achieve this greater rate of return. To the contrary, this year, the quality of our investment portfolio actually increased.
Our unparalleled financial success is the result of a careful, deliberate and ethical approach to putting the well-being of our insurance members first. Last year, we decided to share that philosophy and our experience with others. We sponsored a conference on sustainable investing in Chicago, bringing cutting edge sustainable investing techniques to financial managers of dioceses and non-profit organizations.
We addressed screening methods, and various sustainable investing models, including our own — based on Catholic social teaching. When we make investments at the Knights of Columbus, we basically look for the presence of two components: Is the investment sound economically? And equally important, is it sound ethically? We understand that when we make an investment, we enable certain business activity as a result of that investment. We seek to maximize the good we can do by how and where we invest.
An excellent example of this philosophy in action is our ChurchLoan program, which enables Catholic churches and Catholic schools to finance construction projects at very competitive rates. This program allows us to help support the Church, while at the same time being good stewards of the assets of our members. It is exactly the sort of ethical, sustainable investment we like to make at the Knights of Columbus. And it is an investment on which we have never lost a dime. At year's end, our ChurchLoan portfolio totaled approximately $102 million.
We will continue to invest in our Church, and in enterprises that are both economically and morally sustainable. Anyone who has ever invested knows that if an investment doesn't work economically, you sell it. But the Knights of Columbus also believes that if an investment doesn't work morally, you should not buy it.
And the fact that there is no more highly rated insurer in North America than the Knights of Columbus stands as a powerful testament to the fact that ethics and success can and should go together.
Even in a weak economy, the Knights of Columbus continues to grow strong.
Knights and the Church
The strength of the ties of the Knights of Columbus to the Church has no greater example than the advancement of the cause for canonization of our founder, Venerable Michael McGivney. As his cause continues, our postulator in Rome recently received very encouraging news about a possible miracle through the intercession of our founder. This development was especially welcome, because the report came shortly after we received news from the Vatican that the event previously under investigation would not be going forward. So we saw clearly the truth of the old saying, "When one door closes, another one opens."
Our postulator has now begun looking diligently into this new report, which we think may be a miracle involving Father McGivney's intercession. Since this investigation is in the early stages, I will not discuss the exact details, knowing that the final judgment on these matters is in the hands of the Church. But I think we have very good reason for hope that Father McGivney is very much on track for beatification. One approved miracle is needed for beatification, and another approved miracle is necessary for the final stage of canonization.
The message we should take from these recent events is that all Knights and their families should continue their regular prayer for Father McGivney's canonization. We should invoke his intercession in life's struggles, and especially when faced with very serious illness. In addition, every Catholic is invited to sign up for the Father McGivney Guild and continue to report favors received.
The cause for Father McGivney was opened during the pontificate of John Paul II — who encouraged devotion to our founder. This is just one of the many ways in which the Knights of Columbus has been closely linked with Pope John Paul.
This close tie continues today with our development of what will soon become the most important shrine to Blessed John Paul II in the Western Hemisphere. This beautiful facility is just a short walk from the Basilica of the National Shrine of the Immaculate Conception in Washington, D.C. Our shrine will be a special place of prayer and devotion. It will also include the most important museum in the Western Hemisphere on his life and papacy. But it will be much more than that. It will become a center for the study and promotion of his legacy and the promotion of the new evangelization that seeks to build a civilization of love.
The new Blessed John Paul II Shrine affords us an unparalleled opportunity to reach a large and diverse audience. This project joins the educational formation we have long promoted through our support of the Pontifical John Paul II Institute for Studies on Marriage and Family, which is located in McGivney Hall on the campus of The Catholic University of America.
The Knights of Columbus has supported the Institute's work since it opened in 1988. The more than 400 Institute graduates have come from 47 of the 50 states, and 37 countries around the world.
The Institute is just one of the many ways in which we continue our mission of protecting Catholic families.
Such work is not new for the Knights of Columbus. For more than 60 years, our Catholic Information Service has provided millions of pieces of educational literature about the Catholic faith to people all over the world. CIS still provides printed materials, but also now provides more than 75 publications online, in both PDF and MP3 formats. And adding to our excellent Luke E. Hart and Veritas Series, we are now beginning a third series of publications, this time on the New Evangelization.
Our long-standing commitment to promoting our faith extends also to our strong support for vocations. In addition to the support for seminarians who will become military chaplains, last year the Knights of Columbus provided vocations scholarships totaling $270,000 to 110 seminarians in the United States and Canada through our Father McGivney and Bishop Daily scholarships.
And our largest vocation effort is the RSVP program, in which our councils provide support to individual seminarians. Over the past year, more than 5,000 seminarians have received nearly $6 million in support thanks to the Knights of Columbus. In addition, our councils have provided a total of $1.9 million in direct support to seminaries.
We support the Church and evangelization in other ways as well. Two days ago, at the Los Angeles Memorial Coliseum, we hosted a celebration of Our Lady of Guadalupe in partnership with the Archdiocese of Los Angeles. The music, prayer and speakers combined to create an unforgettable experience.
Our gathering was one of the largest Catholic events in the history of the United States, and I want to thank Archbishop José Gomez and the California Knights who worked so hard to make it a success.
The event reminded all of us that this is a Christian hemisphere, united under the mantle of Our Lady of Guadalupe. Although devotion to Our Lady of Guadalupe is generally associated with the Americas and with the Philippines, it became clear this year that her reach goes much farther.
At our convention in Denver, we inaugurated a two-year Marian Prayer Program, dedicated to Our Lady of Guadalupe. Through this program, her image is taken by Knights from parish to parish throughout the Order. I would like to thank Msgr. Enrique Glennie and Msgr. Eduardo Chávez who were so helpful in allowing all of these images to be touched to the actual image of Our Lady of Guadalupe on the tilma in her basilica in Mexico City.
All jurisdictions around the world took part. Already this past fraternal year, more than 587,000 people participated in more than 3,200 Marian prayer services. But you may find it a testament to the power of Our Lady of Guadalupe that as of April, more than 150,000 people had participated in this Knights-sponsored devotion in Poland.
And this spreading of her devotion in Europe will be reflected again this December, when the Pontifical Commission for Latin America and the Knights of Columbus will jointly organize a congress on Our Lady of Guadalupe at the Vatican.
We need Our Lady of Guadalupe and her son now more than ever. For decades, the observance of Christmas in many countries has become so commercialized that its religious meaning has been greatly diminished. This problem is compounded by atheist groups that want to deny our freedom to publicly acknowledge Christmas as a celebration of the birth of Christ.
I think it's fair to say that our "Keep Christ in Christmas" program is more important than ever. In fact, a Knights of Columbus-Marist poll taken last winter found that 64 percent of Americans prefer to hear "Merry Christmas" over nonspecific greetings such as "Happy Holidays." Our work to keep Christ in Christmas helps them to hear those words and remember that you can't have Christmas without Christ.
This year, make a point of sending religiously themed Christmas cards. And consider including the Posada, a Christmas celebration developed by Franciscan missionaries, as part of your family, parish or council Christmas observance. An instructional booklet titled The Posada: An Advent & Christmas Celebration is available in print and online from the Knights of Columbus.
Eight years ago, the Knights of Columbus Museum began a tradition of scheduling a special exhibit of Christmas crèches each December, and it has proven very popular. Last year, we featured "Christmas Across Africa," a collection of beautiful crèches from 23 African countries. This year's exhibit in New Haven will be "Christmas Across Canada," and will feature collections on loan from two famous crèche museums in Quebec.
And as you celebrate Christmas this year, you might pause to remember Cardinal John Foley. He was the English-language voice you heard on the midnight Mass broadcasts from the Vatican — brought to people throughout the world thanks to the Knights of Columbus-funded satellite uplink. And though he served at the Vatican, he was a member of Council 4546 in Philadelphia and a regular attendee of our Supreme Council meetings. He went to his eternal reward just prior to Christmas last year after a battle with cancer, and he will be greatly missed.
The Knights of Columbus supports the Church at every level — from our local parishes and dioceses, to bishops' conferences and the Vatican.
Our support of the Holy Father has been — and continues to be — an important part of our service to the Church. During a private audience in December, I was privileged to present Pope Benedict XVI with a check on your behalf for $1.6 million. That amount represents this year's earnings from our Vicarius Christi Fund, and goes to support the Holy Father's personal charities.
When Pope Benedict traveled to Mexico and Cuba in March, we provided both financial and volunteer support. During a papal Mass on Cubilete Hill in the center of Mexico, a special reliquary commissioned by the Knights of Columbus was displayed. It contains the relics of 25 Mexican saints and blesseds who were martyred during the persecution of the Catholic Church in the 1920s. Six of the saints and three of those blesseds were brother Knights.
The story of the martyrdom of one of our saints — Father José María Robles Hurtado — was told in the movie, For Greater Glory, which premiered in theaters this spring throughout the United States and Mexico. The Supreme Council supported the production of the movie, which dramatically tells the story of the persecution of the Church in Mexico, while helping to tell the story of the peaceful work of the Knights of Columbus to stop the persecution and support the Church and the people of Mexico. It is an important story, and one that remains largely unknown on both sides of the border. A Knights of Columbus-produced documentary on this film was broadcast throughout the United States on PBS.
Shortly after Pope Benedict's visit to Mexico, we launched new tours in the United States and Mexico of the relics of our Knights of Columbus Martyrs. In the United States, the tour began in Houston, at the opening Mass of our Texas state convention, and included stops in Chicago, Tucson, Phoenix, Los Angeles, New York, and San Antonio. Everywhere it went, it brought a renewed appreciation of those who made the ultimate sacrifice for their faith during Mexico's darkest hour. Their sacrifice underscores how fortunate we are to be meeting in a country and at a time when disputes between the Church and the government are decided in courtrooms and by elections.
These Mexican martyrs died because they practiced their faith in a country where to do so was against the law and against their country's constitution. How much more reason does that give us to stand up for our faith in a country where our Constitution protects our right to the free exercise of our religion?
Building a Culture of Life
We are called to build a civilization of love based on the principles of the Gospel. And the cornerstone of that civilization must be a culture of life. But in the United States alone, more than 54 million children have been victims of abortion since the Roe v. Wade decision in 1973.
We must build a culture of life in the way we advocate for new laws that protect the life of all people from conception to natural death. We must build a culture of life through the way we vote. We must build a culture of life by our witness in our daily actions. And we must also reach out to women in need. We must be a gentle resource in assisting them in their decision to choose life.
One of the most effective ways in which we have helped thousands of women save their children is through our Ultrasound Initiative.
Providing ultrasound machines to pregnancy resource centers has enabled many thousands of pregnant women to see their unborn child and know that their child is a living human being. And thousands of them have decided to keep their child.
The Supreme Council shares the cost of these machines with our state and local councils. Since the program began three and a half years ago, the Knights of Columbus Ultrasound Initiative has enabled the purchase of 268 ultrasound machines in 44 states and Canada, with a total value of more than $14 million.
It is, without doubt, the most effective pro-life program we have ever undertaken. It saves lives each and every day. And with each woman who sees her child, we continue to turn the tide of public opinion, one person at a time.
Knights of Columbus are in the forefront of marches for life around the world: in the United States, where the annual March for Life in Washington has now been supplemented by marches in state capitals throughout the country; in Canada, where the March for Life in Ottawa drew more than 15,000 people this year, and where marches are now being held in every provincial capital; and in the Philippines, where our brother Knights led Walk for Life events in all three jurisdictions there.
Every major polling organization has confirmed what we first discovered in our Knights of Columbus-Marist Poll in 2008: Public opinion has shifted dramatically in the pro-life direction.
Consider also that even 71 percent of those who described themselves as "pro-choice" in that poll favor significant restrictions on abortion.
We seek nothing less than the transformation of our societies into a new culture of life. And the foundation of this effort must be the bedrock of the inviolable dignity of every human life at every stage, and the realization that in the great family our Lord intends for us, we are all to be our brother's keeper.
Religious Liberty 2012
But we must have the freedom to pursue this great mission. From our earliest days, protecting our First Amendment right to religious liberty has been important to the Knights of Columbus.
Over the years, this has meant that we have successfully defended the words "under God" in the U.S. Pledge of Allegiance.
Our commitment means that we will continue to defend our statue of Christ on Big Mountain in Montana. For six decades, the statue's presence on land leased from the U.S. Forest Service has been non-controversial. It was placed there by Kalispell Council 1328, together with veterans of the 10th Mountain Division nearly 60 years ago in honor of our fallen soldiers. A Wisconsin-based organization has recently filed suit against the Forest Service, claiming that leasing the land to the Knights for the purpose of erecting the statue constitutes the government establishment of a religion. We will continue to protect the right to honor fallen soldiers with a religious monument — even if a small group of atheists from another state disagrees.
Not only does the Constitution protect our right to have this monument, but the American people support it as well. Three quarters of Americans support public religious displays. And our position is that of George Washington, Thomas Jefferson, Charles Carroll and John Kennedy. It is the position that our rights come not from the generosity of the government, but from God — and that acknowledging this truth is not an establishment of one particular religion, but the acknowledgement of the transcendent nature and source of our rights. This is a point we have made clear to communities throughout this country with the work we do, and it is a point made clear by our award-winning Presidents Day commercial, which aired nationwide last February.
Nearly 20 years ago, Blessed John Paul II visited the United States. On that occasion, he urged us to protect our First Amendment rights to the free exercise of religion. Speaking in 1995 in Baltimore, he said these words, quoted by our Supreme Chaplain Archbishop William Lori at his installation as Archbishop of Baltimore in May of this year: "The challenge facing you, dear friends, is to increase people's awareness of the importance of religious freedom for society; to defend that freedom against those who would take religion out of the public domain and establish secularism as America's official faith. And it is vitally necessary, for the very survival of the American experience, to transmit to the next generation the precious legacy of religious freedom and the convictions which sustain it."
Today, we look back and we are amazed at what foresight John Paul II had. No one in 1995 could have predicted that Catholics today would find their First Amendment right to religious freedom under assault, not just from a few intolerant atheists, but now from our own government, most recently in the so-called HHS mandate. Today, Blessed John Paul II's words ring true and with renewed urgency.
What is at stake in our current defense of religious liberty is the right to practice our Catholic faith freely. It is the right of Catholics not to be forced to violate our conscience. It is the right of Catholic employers — including the Knights of Columbus — not to be forced to pay for or be complicit with procedures and prescriptions that are morally wrong.
But it is more. What is at stake is the future of religious liberty in the United States and the right of every individual American to practice his faith freely. Our First Amendment guarantees us the free exercise of religion. And fundamental to this constitutional guarantee is our ability to follow the fundamental principles of our religion as defined by our Lord, not as defined by the government.
We have seen two grave threats to our religious liberty in the past year. The first lost in the U.S. Supreme Court, the second is unpopular in the court of public opinion. The HHS mandate may well be reversed or modified. But there could be future threats.
The U.S. bishops' conference document Faithful Citizenship makes clear that we have a duty to avoid being complicit with intrinsic evil. It states: "It is important to be clear that the political choices faced by citizens … may affect the individual's salvation."
Abortion is one such intrinsic evil. So, too, is the attempt by the government to limit the saving mission of our Church and to restrict its liberty.
Let me reiterate what I said earlier this year at the annual Catholic Press Association meeting: Is it not time for Catholic voters to say "no" to every candidate of every political party who supports such intrinsic evils?
Catholic voters have the power to transform our politics. Faithful citizens can build a new politics — a politics that is not satisfied with the status quo, but one that is dedicated to building up a new culture of life.
There are more than 300 million Catholics in the countries in which we are active. What candidate or political party can withstand the loss of millions of Catholic voters? If we stand together and demand better, we can transform our politics.
We have discussed how freedom and charity are linked, and as Catholic citizens we must lead with charity — to our neighbor, and to those who disagree with us politically. Catholics can transform politics in another way. We can raise the level of our national political discourse. We can transform politics that are disfigured by personal attacks and partisan divisiveness. And we can do it starting now.
The American people want — and they deserve — civility. We need a conversation about the issues, rather than personal attacks.
Last month, our K of C-Marist poll found that nearly 8 in 10 Americans were frustrated by the tone of our nation's political discourse. And a strong majority said that such negativity is hurting our political process. Our citizens want — and they deserve — a national discussion that is civil and respectful. We understand that we do not agree on every issue, but we also understand that how we disagree says a great deal about who we are as a nation.
So, I am pleased to announce that the Knights of Columbus has begun a nationwide Campaign for Civility in America. This online petition drive will give the American people a voice in speaking up for a respectful public discourse. Thousands of Americans have already signed the petition, and I encourage all of you — and every American — to visit CivilityInAmerica.org and to sign this petition. By doing so, we can begin to change our politics for the better.
As I mentioned earlier, the Catholic patriot Charles Carroll prayed that God would preserve religious liberty in the United States forever and that all Christians would be active in charity, which he called "the basis of every virtue." A little more than half a century later, a young parish priest in New Haven, Conn., and a handful of the young "go-ahead" men of the city gathered in the basement of their church. There they established a new organization dedicated to the principles of religious freedom and charity.
These were men who had experienced the trauma of a bitter civil war and who had heard the stirring call of President Abraham Lincoln, declaring that their nation "under God" must have a "new birth of freedom." They agreed with him that their country should become a place "with malice toward none, with charity for all." And they took to heart Lincoln's admonition to act with "firmness in the right as God gives us to see the right."
The spark those men lit in the cause of Catholic fraternalism soon captured the imagination of a generation of Catholic men. Within its first 25 years, the Knights of Columbus spread throughout the United States and then into Canada, Mexico and the Philippines.
For decades, Catholics throughout the United States had suffered the indignity of being deprived of the right to vote or hold public office. Know-Nothings and other bigots claimed that Catholics who remained faithful to their Church could never be loyal citizens of a democracy. It was the Knights of Columbus that finally challenged that slander — first with the creation of the Order's patriotic degree in 1900, and later with a tremendous outpouring of support and service in the First World War.
When the history of Catholics, African Americans, Jews and others was maligned, we established the K of C Historical Commission and endowed a professorship in history at The Catholic University of America to set the record straight.
When extremists such as the Ku Klux Klan sought the prohibition of Catholic schools throughout the United States, we stood with the Society of Sisters of the Holy Names of Jesus and Mary and helped them bring their case challenging that law all the way to the U.S. Supreme Court.
When many in America were drawing barriers based on race and religion, we raised a banner saying "Everybody Welcome." And we meant everybody.
When Catholics in Mexico faced the most dreadful persecution of Christians ever in the Western Hemisphere, we launched a nationwide campaign to help them, even as many brother Knights in Mexico sacrificed their lives in witness to our faith.
Throughout our history, Knights have been men willing to face adversity and discrimination. Some lived to see their sons and grandsons become governors, justices, premiers, prime ministers and presidents. These were men who, for the most part, joined the Knights of Columbus not to engage in the great controversies of the day, but to improve the lives of their families; to provide financial security for their wives and children; to strengthen their parishes; and to make their communities better.
They saw their Church as one great family, and they sought through their principles of charity, unity and fraternity to build of their nation one great family as well.
But when challenges and controversies came, they were men who would not step aside. In the words of Lincoln, they remained firm in the right, as God gave them to see the right. They knew that their conscience had rights because their conscience had duties.
During the end of the Second World War, the noted American jurist, Judge Learned Hand, said this about the spirit of liberty: "What do we mean when we say that first of all we seek liberty? I often wonder whether we do not rest our hopes too much upon constitutions, upon laws and upon the courts. Liberty lies in the hearts of men and women; when it dies there, no constitution, no law, no court, can save it."
My brother Knights, freedom will always live in the hearts of the Knights of Columbus.
As we reflect on the astonishing accomplishments of the Knights of Columbus over the past 130 years, we honor these men, and we recall with pride their vision and their courage.
Some may ask whether our founder, Father McGivney, could have imagined all that his brother Knights would achieve. Would he even recognize the Knights of Columbus today? I believe the answer to those questions is "yes." I believe Father McGivney could see into the hearts of the men who gathered with him at St. Mary's Church. He knew their faith, and he knew their aspirations. He knew what they were capable of. I also believe our saintly founder sees into the hearts of his brother Knights today, and there he finds those same qualities. One hundred years from now, he will not be surprised by what his brother Knights continue to accomplish.
Vivat Jesus!