Marian Program Launched at Wednesday's Mass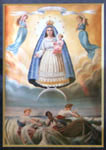 The new Knights of Columbus Marian Hour of Prayer program, dedicated to Our Lady of Charity, was inaugurated during morning Mass on Wednesday, August 8th. The inauguration ceremony was led by Cardinal Jaime Ortega y Alamino of Havana, who blessed framed images of Our Lady of Charity being held by all the state deputies attending the convention. Our Lady of Charity is the patroness of Cuba.
Cardinal Ortega y Alamino prayed that "as these images of Our Lady of Charity go forth, may the Knights of Columbus and their families … be filled with faith and love."
Over the course of the next year, the framed images will be brought from council to council within each jurisdiction throughout the Order for a one-hour prayer service and rosary recitation. A prayer booklet accompanying each image includes hymns, a litany and a prayer that Pope John Paul II used when he visited Cuba in 1998.
The theme of the prayer service relates Our Lady of Charity to the Knights of Columbus' first principle of charity. It draws upon Pope Benedict XVI's first encyclical Deus Caritas Est (God Is Love) and includes special prayers for the intentions of the Holy Father.
Nat Gallo, state deputy of Ontario, was among the state deputies who processed with the framed images at the end of Mass.
He said that although the image of Our Lady of Charity comes from Cuba, the virtues that Our Lady represents are universal.
"I am very much looking forward to bringing the image back to my jurisdiction and starting this program in Ontario," he said. "I think this program is going to go over very well. Anytime we have had an icon from the Knights of Columbus, it has been very well received, and I know this program will be very well received."