Chapel is Peaceful Sanctuary for Convention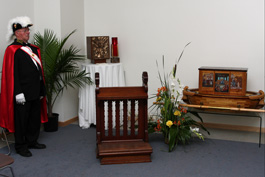 Along a busy convention center corridor, across from the main meeting hall, the quiet of prayer prevails. Here, a cozy room has been converted into the dignity of an Adoration Chapel, with a tabernacle holding the Blessed Sacrament and the Ark of the New Covenant on display.
As the hectic schedule unfolds for the 126th Knights of Columbus Supreme Council Meeting in Quebec City, Fourth Degree Knights in full regalia, working in two-man teams, are taking 30-minute shifts as honor guards before the Blessed Sacrament. Convention delegates and their families are invited to stop into the chapel for a few minutes of prayer and contemplation.
"The Adoration Chapel shows what our Order is all about," said Chuck Gallina, who is coordinating all Fourth Degree activities at the convention, including the honor guards and color guards during the daily celebration of Mass. "To me, it's simple. The body of our Lord is there in the tabernacle. His presence is real. As we all go about our busy schedules, we have this great opportunity to stop in and visit with our Lord. This is a great privilege, a great blessing and a great solace. I hope everyone attending the convention takes advantage of this opportunity because this is the center of our faith – Jesus Christ."
The Ark of the New Covenant was a centerpiece of the 49th International Eucharistic Congress in Quebec City last June. Designed as a boat, to symbolize the pilgrim Church on earth, the ark traveled throughout Canada for more than a year before the Eucharistic Congress, with the constant help of Canadian Knights of Columbus, who carryied it in procession and transported it from town to town.
The Adoration Chapel is open about nine hours continuously each full day of the convention, which means 36 Sir Knights are needed to stand guard each day. Fourth Degree members from all the assemblies in Quebec are taking part, under the direction of Vice Supreme Master Jean-Paul Boudreau.
Regarding the Fourth Degree's participation, Gallina commented, "As we are defenders of our faith, and of our bishops and priests, so we are defenders of Jesus Christ himself. The Fourth Degree has the great honor of being present to see that our Lord is never alone or unattended.
"It's not a burden. It's an honor to be with him, and the Quebec Sir Knights have really come through to do their part."