Fathers for Good Initiative Launched at Convention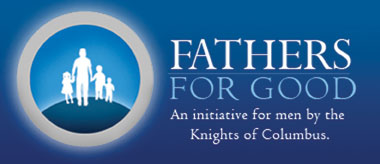 In keeping with a longstanding commitment to build stronger marriages and families, the Knights of Columbus has launched a new initiative at the 126th Supreme Council Meeting, called Fathers for Good.
The centerpiece of the initiative is an interactive Web site, www.fathersforgood.org. 
"Fatherhood is a gift, a privilege and a responsibility," Anderson says in a special video message on the Web site. "The way in which we accept this gift, acknowledge this privilege and act upon this responsibility will determine the ways in which we will build up the good of our families and our communities."
"By being faithful to our calling as husbands and fathers," he notes, "we are ultimately being faithful to ourselves."
The theme for the launch of the Web site is "A Father's Identity," which offers men resources on how to build a strong, loving and confident identity in a culture that often does not value fatherhood or masculine virtues. The theme of the site will be updated regularly, based on the votes for the next topic which visitors to the site will be able to cast.
Among the highlighted podcasts is New York Giants Super Bowl champion Chris Godfrey explaining how to talk about sex to your children, and pediatrician Dr. Meg Meeker delivering a special message to fathers about their relationships with their children.
In keeping with the Catholic identity of the Knights of Columbus, the Web site also offers sections on male spirituality and building a better relationship with God, topics that are often overlooked on other male-oriented sites.
Convention Booth Draws a Crowd
On Monday, at the Quebec City convention center, a booth for the new Fathers for Good initiative was a center of interest among delegates. Booklets of the related St. Joseph Series for men were being given out, as well as refrigerator magnets with the Fathers for Good logo.
"I think this is a great idea for the Knights," said Bill Schmidt, Kentucky State Warden. He and his wife, Kim, picked up free literature at the booth. "It's a good organization that helps build healthy family values, and I know we're a stronger family because of the Knights."
His wife said that they are "a Knights of Columbus family," with their 11-year-old daughter and 6-year-old son helping with council activities such as fish fries. "Our kids are growing up with the Knights," she said. "Our son says he wants to be a grand Knight. The key about the Knights is that our children can always be right there with us."
Bob Lamontagne, a 20-year member of Pavia Council 48 in Bethel, Conn., said that Fathers for Good will help men develop virtues to fight the culture.
"Being a member of the Knights has helped me focus on my own faith," he said. "In the culture today, we need to step forward and do what is right, for men to do what is right for their families."