Fraternal, Insurance Leaders Talk Membership at Monday Seminar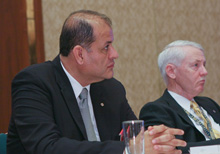 The dual strengths of the Knights of Columbus were summoned to lead a membership seminar Monday Aug. 4. Approximately 200 Knights listened to talks on recruitment, new council development and insurance promotion led by leading Knights of Columbus general and field agents, and current and past state deputies. Supreme Director Emilio Moure from California served as moderator.
Marc Bouchard, the Order's top general agent, and Ben Baca III, the second leading agent, urged the Knights to foster strong relations with Agency staff in their regions. "Mutual respect is the foundation of the fraternal-insurance relationship," Bouchard said. Agency staff attend as many state and local meetings as they can in order to "encourage open dialogue" on growing the Order. This past fraternal year, the Bouchard Agency donated $200 to each council that earned the Double Star Council Award and during the current fraternal year it plans to donate $200 to each new council that is chartered.
Baca said the California agents he oversees are guided by two goals: "Every Catholic Man A Knight" and "Every Knight Protected" through K of C Insurance. "The Order has a great story to tell," Baca said."The things we do this year to grow the Order will make the 250th anniversary of the Knights possible."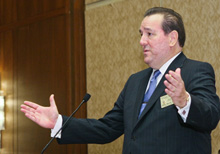 Field Agents Joaquim Correia of the Baca Agency in California and Neil S. Bouvier of the Bouchard Agency in Alberta helped round out the Agency presentations. Correia, the leading field agent in the Knights, said he learned at the start of his professional career with the Order that success came from promoting partnership between the fraternal and insurance operations."I will not be successful as a field agent," he said, "if my grand knights, district deputies and councils are not successful." In all his dealings with members,Correia said he asks himself one question, "What would Father Michael J. McGivney do?"
Alberta State Deputy Walter Streit, Georgia State Deputy Dan Baker and Texas Immediate Past State Deputy Larry Zapalac lent their fraternal expertise to the panel.Over the past 10 years, Streit has personally recruited 950 members. He believes recruitment can be contagious and hopes his successes have a "multiplying effect," encouraging others to be recruiters, too. Streit said being "positive, enthusiastic and persistent"are keys to recruitment success.