International Family of the Year Award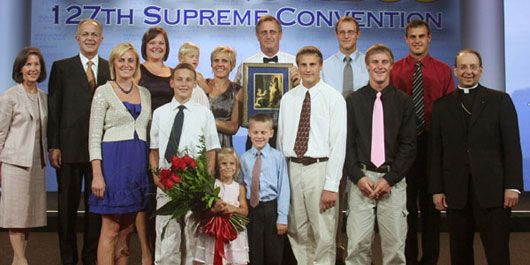 The 2009 Knights of Columbus Family of the Year, Leland and Mary Ann Vetter of Torrington, Wyoming, and their children – Marie, Diana, Thomas, Steven, Benjamin, Nicholas, Andrew, Paul, Kathleen and Alexis – stand with Supreme Knight Carl A. Anderson and his wife Dorian, and Supreme Chaplain Bishop William E. Lori.
Vetter Family Recognized for Service to Church and Community
A Knight of Columbus and his family from Torrington, Wyo., have received the fraternal organization's 2008 International Family of the Year Award. The honor was presented to Leland Vetter, a member of Msgr. Fred J. Kimmet Council 6623, and his family at the Knights of Columbus Supreme Convention here today.
The Vetter family gives real meaning to the K of C motto, "In Service to One, In Service to All." Leland and Mary Ann Vetter and their 10 children, who range in age from 2 to 27, have compiled an extraordinary record of service to the Church and their community.
Leland has been a Knight for 33 years, and has held all of his council's leadership positions. He has been the council's "Tootsie Roll" chairman for 20 years, a bingo volunteer for 25 years and is a member of his parish council.
When it snows in Torrington, Leland is out before dawn plowing the Church parking lot. He raised funds for the parish hall expansion and helps train parish altar servers. He teaches at Eastern Wyoming Community College and was recently appointed by the governor of Wyoming to the state's Community College Task Force on Education. Two of his sons are Knights. His brother, Austin, is a priest who attended the North American College in Rome.
Mary Ann Vetter spearheads Thursday Eucharistic devotions in their parish. She organized a "Mom's Group," which provides spiritual formation and retreats for the women of the parish. She visits shut-ins in the neighborhood and takes care of other mothers' children to give them a break. She and Leland are very involved in pro-life activities also.
The Vetter children are active volunteers in the Church and the community. They are the latest of five generations of Vetters, all descendants of immigrants who settled in North Dakota in the 19th century. In fact, Leland's parents were the North Dakota Knights of Columbus Family of the Year in 1994, and placed in third for the international award that year.
The Knights of Columbus is an international lay Catholic organization with 1.75 million members who belong to more than 13,000 affiliated councils. It annually recognizes families for their commitment to the organization's principles and involvement in related activities.