Knights Knights Pray for Deceased at Memorial Mass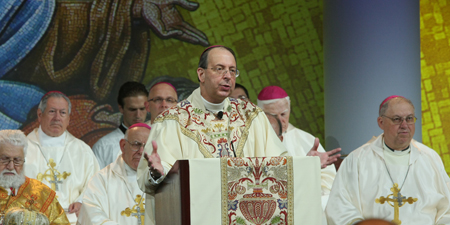 At the annual Memorial Mass offered by Supreme Chaplain Bishop William E. Lori, the Knights of Columbus prayed for members who died in the past year while paying special honor to clergy members of the Order from Mexico who have been canonized.
Relics of the six Mexican priests who were killed during the persecution of the Church in that country were carried in the opening procession of the Mass, as well as a relic of St. Rafael Guίzar Valencia, a bishop in Mexico in the 1930s.
At the Prayer of the Faithful, the annual necrology – the names of prominent Knights of Columbus who died within the last 12 months – were read by Supreme Secretary Donald R. Kehoe, who exhorted the congregation to pray that these and all deceased Knights see the face of the Lord in heaven.
In his homily, Bishop Lori noted that the annual Memorial Mass was being offered on the feast of the Transfiguration, which recalls the occasion when Jesus took Peter, James and John up the mountain, and they beheld the glory of his divinity. Bishop Lori said that it was fitting to remember the dead on such a feast day, because we should pray that all the dead also will behold the glory of God.
The Transfiguration is also a sign of hope for the living, whose faith may be shaken by the death of a loved one, or may be overcome by fear about what lies beyond the grave, he said.
"At every Eucharist, we share in what the Transfiguration foreshadowed: the conquest of sin and death by the death and resurrection of the incarnate Son of God," he said. "Nonetheless, we are still scandalized by death and we still fear it. We naturally fear our own death and wonder what truly lies beyond its threshold."
The first reading of the Mass, in which St. Peter testifies to the truth of what he saw on the mountain with Jesus, offers hope for all generations, Bishop Lori pointed out.
The Supreme Chaplain ended by saying that all Knights should continue to pray for the beatification and canonization of the Order's founder, Venerable Michael J. McGivney, so that he will soon join the Knights who are already saints.
The procession with the relics of the Mexican martyrs was a fitting prelude to the first Marian Congress on Our Lady of Guadalupe, which is due to open on Thursday afternoon, after the conclusion of the Supreme Convention.