Pins Exchanged in Annual Tradition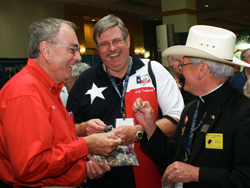 The Order's national and international colors shone brightly on Monday night during the annual Souvenir Exchange at the convention center. Gathering in the lobby, beneath the indoor palm trees and beside the splashing fountain, delegates and their wives from the Order's 72 jurisdictions traded state pins, with the goal of getting the most.
"This is my first convention ever," said Gail Craven, whose husband, David, is a delegate from Massachusetts. She had exchanged her state pin for ones from Rhode Island, New York, Florida and the large Texas-shaped flashing pin she wore on her lapel. But she wasn't parting with the dark tri-cornered Revolutionary hat she wore on her head. "What I really love the most is meeting people from all over the country. Everyone is so happy and friendly," she said.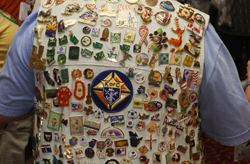 Cultural, national and language boundaries were bridged as participants engaged in the universal practice of good-willed exchange. Delegates from the Philippines met those from Poland; Mexico traded with Canada. Children carried maps of the United States to place their pins upon, making sure they didn't miss a state.
It was a typical Knights of Columbus event, marked by charity, unity and fraternity, and a healthy dose of laughter.