Convention Insider
Advocate for Immigrants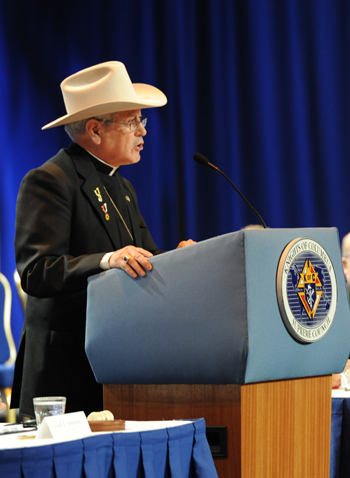 In the final session on Thursday, Bishop Placido Rodriguez, C.M.F., of Lubbock, Texas, spoke in English and Spanish on behalf of the immigrants to the United States. Wearing a white cowboy hat, he said that Catholics must study the Church's social teaching and the recent statements by bishops on the plight of immigrants and the crisis in immigration law.
"We judge ourselves as a people of faith by our treatment of the least among us," he said.
While saying that the bishops do not advocate the violation of U.S. immigration law, Bishop Rodriguez said that Catholics nevertheless must see in the person of the immigrant a fellow human being and in many cases a fellow Catholic.
"We may miss the mysterious presence of our crucified Lord in the person of the migrant," he said. "The issue of immigration must be seen from a humanitarian and pastoral perspective."