Convention Insider
On to Denver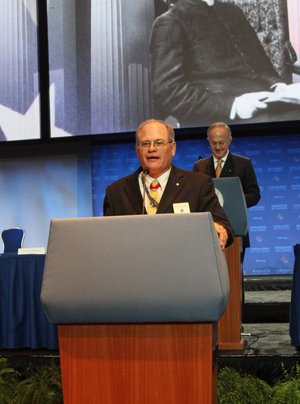 In the closing session Thursday morning, it was announced that the 129th Supreme Convention will be held the first week of August 2011, in Denver. The Colorado State Council is already planning a Rocky Mountain welcome to all Knights and their families, said State Deputy Foster Sauter.
Supreme Knight Carl Anderson followed with his final remarks. He announced that the whole Order will engage in a novena during the month of October in thanksgiving for the canonization of Blessed Andre Bessette, the founder of St. Joseph's Oratory in Montreal, Canada. Blessed Andre, who died at the age of 92 in 1937, will be canonized on October 17th.
The supreme knight urged all Knights to engage in the Order's spiritual development initiative, under the guidance of Bishop Lori. Every parish that is served by a council should see the Knights as men of faith and action who are "resplendent in the virtues of faith, hope and charity," he said.
Every council should "take up the challenge to do one more charitable activity" in the present fraternal year, he continued. And every member should "give one more hour of volunteer service." The small increase in effort will pay huge benefits for communities, parishes and those in need, he noted.
Recounting the difficult historical periods the Order has passed through in its 128 years, the supreme knight said that to the people of those times, it might have been unclear whether the sun was rising or setting upon the Knights of Columbus. But the men of the Order rose to the challenge each time and continued to build the Order decade by decade, working with the vision of Father Michael McGivney.
Today, Anderson continued, with the many challenges to the Church, it may seem to some that dark days are upon the faith. Yet he told the delegates, "It is up to you and I to make sure that it is a rising sun for the Knights of Columbus."