Membership and Recruitment Awards
Star Council Award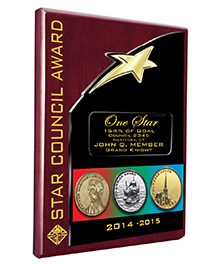 The Star Council Award is the highest distinction any council can realize. It takes into consideration membership and insurance growth as well as programming activities reported in each of the six program categories of our "Surge...with Service" program. At the end of the 2011-2012 fraternal year, 1,079 councils achieved Star Council status.
Additionally, 273 councils met both the membership and insurance quotas.
We continue to urge all grand knights to give closer attention to completing and submitting their Columbian Award Application before the June 30 deadline.
As a special incentive for those grand knights whose councils attained Star Council status, their names were entered into a drawing for four incentive trips for the grand knight and his wife to come here to the Supreme Convention.
This year's representatives are:
Denis F. Faucher of Holy Rosary Cathedral Council 14652 in Vancouver, British Columbia
Paul A. Sherman of St. Paul's Council 11676 in Cleveland, Georgia
Greg A. Wilhelm of St. Mary's Cathedral of the Immaculate Conception Council 15295 in Portland, Oregon
Ronald L. Anderle of Monsignor A P Gallagher Council 7258 in Mena, Arkansas
The five jurisdictions with the highest number of Star Council winners as of June 30, 2012, are:
New York – 41
Texas – 50
Florida – 53
California – 54
Luzon – 70
A total of 2,783 councils earned the Father McGivney Award, which recognizes outstanding recruitment and retention efforts.
A total of 2,082 councils won the Founders' Award, which is earned for excellence in insurance promotion and attainment of the council's insurance quota.
The Columbian Award is presented to councils that have shown an outstanding effort in conducting at least 24 Service Program activities (four in each category: Church, Community, Council, Culture of Life, Family, and Youth) was earned by 3,097 councils.
Star District Awards
District deputies are responsible for ensuring the growth of the Order, and the attainment of Star District status is the ultimate goal of every district deputy. The Star District Award goes to district deputies attaining 100 percent or more of their district's membership and insurance quotas. A total of 510 district deputies qualified for the Star District Award during the 2011-2012 fraternal year. Award winners receive a wall plaque with a Star District medallion.
The district deputies who attained Star District status during the fraternal year were entered into a drawing for one of four incentive trips to the Supreme Convention.
This year's representatives are:
Kevin D. Morris from District 159 in Texas
Richard S. Milward from District 42 in California
Robert F. Buljung from District 22 in Colorado
Dean Rombough from District 12 in Alberta
The following jurisdictions had the highest number of Star District winners as of June 30, 2012:
California – 20
Florida – 22
Mindanao – 79
Visayas – 84
Luzon – 115