Second St. Michael Award Conferred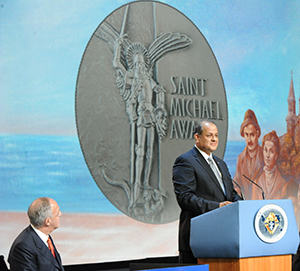 During the final Business Session on Thursday, August 7, Supreme Knight Carl Anderson conferred the St. Michael Award for exemplary service to the Order on Javier G. Nájera Cabrales, who has served as a special consultant to the supreme knight for Mexico.
Nájera Cabrales joined the Order in 1975 and belongs to Purisima Concepcion Council 3903 and Purisima Concepcion Assembly 451, both in Celaya. He was state deputy of Mexico Central from 1998 to 2000 and supreme warden from 1999-2000, the same year he was elected to the Board of Directors. He served as a supreme director for three terms, till 2009.
The St. Michael Award was inaugurated last year when it was given to Joseph P. Schultz, who served as the supreme knight's special consultant for Poland. Schultz passed away this past May.