Conduct an Invitation Program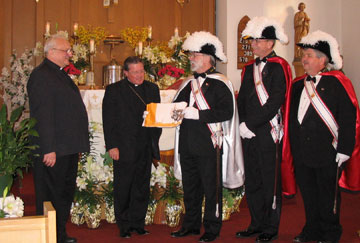 The Patriotic Degree Membership Recruitment Invitation is a tool for making initial contact with eligible prospects. It is effective when used in tandem with personal follow-up that stresses the patriotic aspect of membership in the Patriotic Degree.
Order a supply of Patriotic Degree Membership Invitations (#2412) and envelopes from the Supreme Council Supply Department or create your own invitation.

Send invitations personally signed by the faithful navigator, to prospective Sir Knights.

Telephone the prospective Sir Knight within one week of mailing invitation, to arrange a home visit by assembly members.

Review materials - "A Call to Patriotism" flyer (#4135), assembly newsletter, etc.

Inform the prospect and his wife of the date and program of the exemplification and explain all their financial obligations.

Ask the prospective Sir Knight to JOIN the Patriotic Degree.

Answer any questions that prospective members or their wives may have.

Follow through with attendance at the exemplification; ad to future assembly meetings and programs.
Growth and Initiatives