To Be a Patriot Awards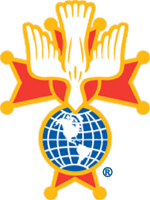 Developed in 1985, the "To Be A Patriot" Award annually recognizes the top three single best patriotic programs conducted by Fourth Degree assemblies each fraternal year. Entries are submitted to the Fourth Degree masters to determine the best program in each district. These are sent to the vice supreme masters, who select the best program in their respective provinces.
Provincial winners are sent to the supreme master who appoints a committee of judges to select the top three international patriotic program winners.
The 2008-09 international awardees, chosen from the provincial entries are::
Fray Francisco Dumetz Assembly 55
Junipero Serra Province
San Bernardino, California
Adopt a Hero Program
Through this program, the assembly works with businesses to adopt a member of the military or an entire military unit.
Father Elmer Robnett Assembly 2233
Our Lady of Guadalupe Province
Norman, Oklahoma
Veteran Recognition and Support Project
As part of its veterans support program, the assembly sponsored a party for veterans at a local VA Center and presented each attendee with a handmade quilt or pillow.
John M. Yencha Assembly 1187
Father Edward F. Sorin, CSC, Province
Parkerburg, West Virginia
Rosaries for the Troops
Under this activity the assembly sponsored two fundraisers to raise enough money to purchase and ship nearly 1,000 metal finger rosaries and prayer cards to Catholic troops and civilians in Iraq and Afghanistan.
The 2007-08 international awardees, chosen from the provincial entries are:
Santiago De Compostela Assembly 2305
Junipero Serra Province
Mission Viejo, California
Support Our Troops/Operation Interdependence Program
This project, running continuously since January 2003, provides a means for the public to reach out to, and show support for, military personnel in a manner that is cost effective and would have little impact on the military mail system.
Father Howard J. Lesch Assembly 1564
DeSoto Province
Fort Walton Beach, Florida
Wounded Warrior Scholarship Program
Implemented three years ago, the Wounded Warrior Scholarship Program provides scholarships to members of the military who were injured in the war on
terrorism and members of their families. The scholarships can be used for education and/or training at colleges, trades schools, technical schools, or other
VA-approved training programs. 
Father Gregory Kelly Assembly 872
Cardinal McGuigan Province
Toronto, Ontario
Patriotism - Get Involved Project
When put into action, the Patriotism - Get Involved Project had two goals: to promote the Knights of Columbus Fourth Degree and to engender a sense of patriotism in the community through the assembly's participation in the the city of Mississauga's "Celebrate Canada Day" event and ceremonies.