Thomas Smith Named Chief Insurance Officer by Knights of Columbus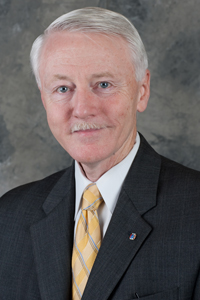 The Knights of Columbus today named Thomas P. Smith Jr., as Chief Insurance Officer. The announcement was made by Supreme Knight and C.E.O Carl A. Anderson.
In his new role Smith will oversee all aspects of the fraternal organization's insurance operations, including actuarial, agencies, customer service, marketing, new business and underwriting. Prior to this appointment he had served as Executive Vice President of Agencies and Marketing.
"Tom has been a key part of our phenomenal growth over the past decade," said Supreme Knight Carl Anderson. "He has shown great leadership in his work and in his commitment to the Knights of Columbus, to the protection of the financial future of our members and to delivering excellent products with the highest level of integrity."
A New Haven native, Smith began his employment with the Knights of Columbus in 1974. He spent nine years in the organization's Fraternal Service Department before moving to a marketing position in the insurance division. He was promoted to Vice President of Agencies in 1986 and later named the organization's chief marketing officer and chief agency officer. He was elected to its Board of Directors in 2003.
Smith has managed the K of C's 1,500-member field force and been a key driver of the company's growth in insurance in force – from $40 billion in 2000 to its present level of more than $82 billion. He has also managed new product development.
Smith holds both the Chartered Life Underwriter (CLU) and Fraternal Insurance Counselor Fellow (FICF) designations. He has served as president of the Fraternal Field Managers. He and his wife, Suzanne, have three children and reside in Branford.
The Knights of Columbus is the world's largest Catholic fraternal society, with more than 1.8 million members on three continents. Last year, Knights of Columbus donated more than $154 million and 70 million volunteer hours to charity.
For 130 years the K of C has provided for the financial security of its members and their families. No insurance company in North America is more highly rated than the Knights of Columbus. It has held an A++ rating by A.M. Best Co. for 36 consecutive years and is listed among the Fortune 1000.