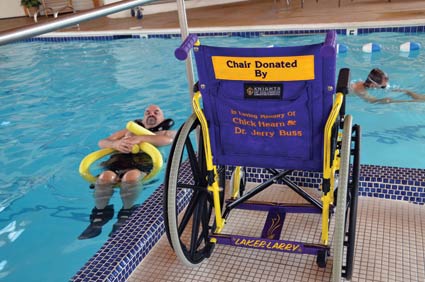 Larry Beauchamp, a volunteer at the Long Beach VA Medical Center, floats in a pool during his aqua therapy while the wheelchair he received from the Knights of Columbus Orange County Chapter waits for him on the edge of the water. Knights from Orange County raised more than $80,000 to purchase wheelchairs for approximately 500 veterans and other worthy recipients like Beauchamp, who has volunteered with veterans at the VA hospital for two years.
Culver City Council 3542 hosted a wine tasting and dinner that raised more than $4,500 for St. Augustine Church. The funds were used to make improvements to the choir loft.
Victor Valley Council 4228 and Msgr. William Van Garsse Assembly, both in Victorville, volunteered at the third annual Parent and Youth Summit Sept. 14 at Aquinas High School in San Bernardino. Knights prepared approximately 500 lunches for all participants, volunteers and staff.
Bishop Charles Francis Buddy Council 6031 in Poway hosted a pancake breakfast to benefit Way Back Inc., a recovery home for men with substance abuse problems. The home provides temporary residence to help men transition from addition to being productive members of the community.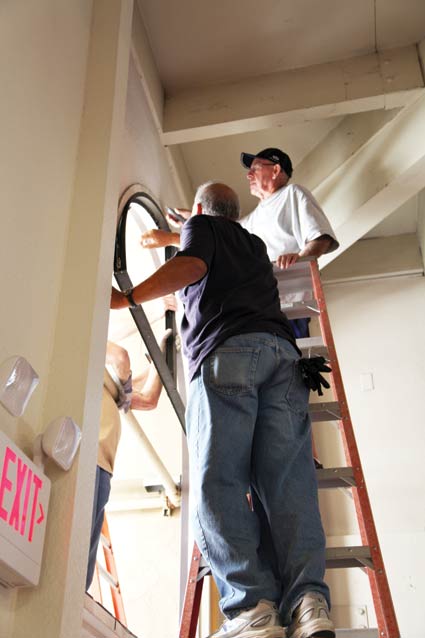 Members of Cardinal James Francis McIntyre Council 6332 in Mission Viejo dismantle a stained-glass window at the old St. Killian Church while cleaning out the building of all religious artifacts. St. Killian Parish erected a new church in 2013, and Past Grand Knight Raymund Trebels discovered a needy parish in Ensenada, Mexico, to gift all of the materials from the old church building. Knights dismantled an altar, baptismal font, pews with kneelers, stations of the cross, windows, speaker systems, and more for the Mexican parish. Additionally, Council 6332 and Santiago de Compostela Assembly raised $5,000 to have the materials shipped.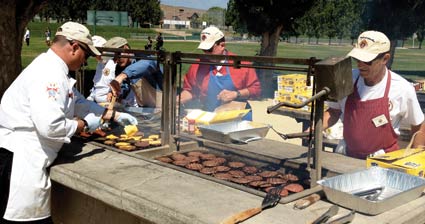 Members of Father Vilarrasa Council 7268 in Benicia grill up hamburgers and hot dogs during the annual "Mass on the Grass" at St. Dominic Church. Some 800 parishioners and guests attended the outdoor Mass, which was followed by games a council-sponsored lunch.
Valle de Oro Council 9332 in Spring Valley donated a set of Knights of Columbus vestments to Father Jacob Bertrand, who serves as the chaplain of several K of C units.
St. Clare Council 12887 in Roseville build a wheelchair ramp at the home of Deacon Richard Driggs, who is currently undergoing cancer treatment.
St. Mary of the Assumption Council 14531 in Stockton hosted the Knights of Columbus Silver Rose when it visited Assumption Church. The visit included five Masses, a bilingual rosary service, a vigil and eucharistic adoration.
---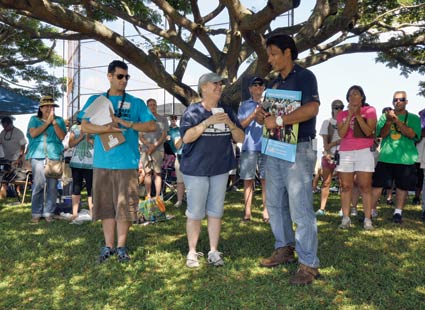 Attendees at the Special Olympics Aukake Classic at the Waiau District Park in Pearl City applaud as Gary K. Jose, Special Olympics chairman for the Hawaii State Council, presents Hawaii Special Olympics President Nancy Botello with a check for $3,500. In addition to the donation from the state council, Knights were heavily involved with the event itself, providing an honor guard for the opening ceremony and serving lunch to more than 400 athletes, coaches, parents and volunteers. (Photo by Nick Sherrouse)
---
Robert D. Meyers Council 1550 in Chehalis and Centralia Council 1758 participated in the Sept. 11 National Day of Service by serving breakfast to volunteers at two locations and participating in service projects in Adna, Centralia, Chehalis, Rochester and Vader.
Share your news! Use our Submit Knights In Action News form.