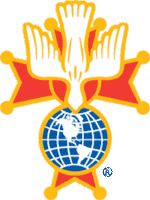 For most men who follow Jesus, there comes a time when duty extends beyond our own lives, beyond how we lead our families, and into how we serve our fellow man. That's what the Knights of Columbus is all about. The Patriotic Degree allows knights to take this one step further. "Sir Knight" is more than a title. It's an honor.
Founded on August 4, 1925 with the institution of Duluth Circle 1 in Duluth, MN, the Columbian Squires program strives to provide "the spiritual, cultural, civic, social and physical improvement of its members, and the development of their leadership qualities," (section II, Article II of the "Laws and Rules of the Columbian Squires").
For nearly one hundred years, the Knights of Columbus has ministered to the needs of college students by establishing councils on university campuses. Today, there are 160 college councils in the United States; with nearly 250 councils worldwide. Through this commitment to Catholic identity, the Order continues to honor the Venerable Father Michael J. McGivney's legacy as the "Apostle to the Young.