Assisted Suicide Bill Tabled for Now, Still a Threat in 2010
• Video Coverage of the Rally for Religious Liberty
• Connecticut Church Rallies Against 1098
• Photos from the Rally
• Text of Supreme Knight's Remarks
• Attack on Connecticut's Catholic Church Poses Threat to All Churches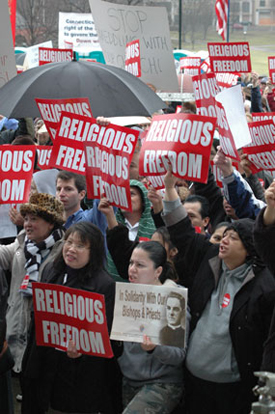 Late in the day on March 13, 2009, the co-chairmen of the Connecticut legislature's Judiciary Committee introduced Bill 1138, a so-called "Death with Dignity" measure. The bill bears a strong similarity to the Oregon assisted- suicide law enacted in 1997. 
A hearing on the bill was scheduled for March 20, just one week later, but after a burst of protest by Knights and other Catholics over the weekend, the committee quickly cancelled the hearing on Monday, calling it a "mistake."
But the bill remains available for consideration at a later date, and indications are that hearings will be held on it in 2010.
The committee co-chairmen, State Sen. Andrew McDonald and State Rep. Michael Lawlor, had tried a similar move just a week earlier, introducing Bill No. 1098 on a Thursday and scheduling a quick hearing less than a week later.  That bill was a direct attack on the Catholic Church, seeking to take all administrative power in the church away from bishops and priests.  That bill was also quickly tabled, but may be the subject of hearings after the current session has ended.
It is important for all Catholics to educate themselves on the assisted-suicide issue. Efforts are being made to push such legislation in a number of states.
The United States Conference of Catholic Bishops provides access to a number of related documents.
The National Catholic Bioethics Center (which is supported by the Knights of Columbus) also provides many useful resources.
In November 2008, Washington state voters approved a law similar to Oregon's measure, becoming the second state to allow assisted suicide. The Knights of Columbus opposed the referendum and provided assistance to the Coalition Against Assisted Suicide. Unfortunately, the referendum passed, and the group has renamed itself True Compassion Advocates. It now "advocates for true compassion, life-affirming choices, comprehensive community support, and excellence in end-of-life care."