By Their Works
7/28/2010
By Their Works: Profiles of Men of Faith, profiling 65 Knights of Columbus whose lives span the entire 124-year history of the Order, is now available in selected book stores and through online booksellers.
By Their Works is a lively, well-illustrated look at the lives of men whose lives and faith were powerfully influenced by their membership in the Knights of Columbus.
It is a high-quality "coffee table book" with dozens of photographs and other illustrations.
Written by Stephen Singular, By Their Works includes chapters on many well-known Knights, including Babe Ruth, John F. Kennedy, and Vince Lombardi. But it also includes many extraordinary but less well known Knights, such as Father Thomas Mulcrone and James Connolly, the first American to win an Olympic gold medal in modern times; Lt. Daniel O'Callaghan, a New York City firefighter who lost his life trying to rescue others at the World Trade Center on 9/11; and Sgt. Maj. Dan Daily, a two-time Medal of Honor winner once described by the commandant of the Marine Corps as "the outstanding Marine of all time."
Others profiled include six priests, Knights of Columbus and saints of the Catholic Church, who were martyred in Mexico during the Cristeros rebellion of the 1920s; Canadian Dr. Claude Brown, who organized Knights of Columbus hospitality huts for allied soldiers during World War II; and Chief Justice Hilario Davide of the Supreme Court of the Philippines.
In his forward to the book, Supreme Knight Carl A. Anderson wrote, "For all of the men profiled in this book, famous or not, religious faith was a formative part of their lives. And membership in the Knights of Columbus is a common thread that played a significant role in shaping their values, strengthening their faith, and inspiring their dedication to their fellow men."
Father Thomas Mulcrone
He loves working with firefighters and paramedics in Chicago, but the job has one drawback.
"I don't get as much sleep as I'd like to," says the priest who is known throughout the Windy City as the Fire Chaplain. "Two or three times a week I get awakened in the middle of the night and jump out of bed to be with the guys on the front lines. Most fire emergencies occur between 10 p.m. and 5 in the morning. My pager goes off and out the door I go."
Since 1987, Father Thomas Mulcrone has served as the official chaplain for the Chicago Fire Department (CFD). He calls this job his "ministry on wheels" and each year he puts 20,000 miles on his CFD-issued car as he drives around town and takes care of firefighters and paramedics.
He offers job-related counseling as well as guidance for other issues, such as marital problems. He gets to know the members of the CFD as family men and women, but he can also relate to them and their working conditions, because wherever they go, he goes with them...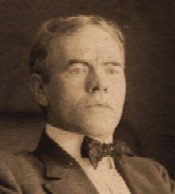 James Connolly
The first Olympic Games were held in Greece nearly 2,500 years ago and continued until Emperor Theodosius stopped them in 393 A.D. For the next 1,500 years, they were dormant, although the idea of reviving them never entirely went away. Finally, in 1896, a French nobleman named Pierre de Coubertin brought them back to life in Athens.
The United States had followed this development closely and decided to send a dozen young men to Greece to compete, but nobody gave them much of a chance. Europe was the center of the world and its athletes were expected to dominate the Games.
To qualify for the Olympics, all the young Americans had to do was fill out an entry form and pay their own way across the ocean. For many of them, going to Athens was more or less a lark, a chance to see the world and have some fun, but 29-year-old James Connolly took the responsibility of representing his country in an international event more seriously. He wasn't just representing his country, but also his neighborhood in South Boston and the Church that was the life blood of his community.
The triple jumper wanted to win for the United States, but he also wanted to bring home the gold for Irish Americans and for the Catholicism that had nurtured him since birth. He was truly a young man on a mission...
James Mullen
James Connolly
William Prout
Edward McSweeney
John Reddin
Patrick Joyce
Connie Mack
Father William Davitt
Sgt. Maj. Daniel Daly
Joyce Kilmer
Dr. Claude Brown
Father John DeValles
Babe Ruth
Father Luis Batiz Sainz
Father Jose Maria Roble Hurtado
Father Mateo Correa Magallanes
Father Miguel de la Mora
Father Rodrigo Aguilar Alemán
Father Pedro de Jesus Maldonado Lucero
Father Michael Ahern

Gov. Al Smith
John Edward Reagan
Father Isaias Edralin
Father George Willmann
Myles Connolly
Oscar Ledesma
Ernest King
Father William Ryan
Jorge Hyatt
John F. Kennedy
Vince Lombardi
Maj. Gen. Patrick Brady
Carlos Rodriguez
U.S. Rep. John McCormack
Father Charles Joseph Watters
John W. McDevitt
Harry McKillop
Ron Guidry
Chris Godfrey
Justice Hilario Davide
Alfred "Bud" Jetty
Matthew Gannon

Paul Scully-Power
R. Sargent Shriver
Virgil Dechant
Joseph Sullivan
Father Thomas Mulcrone
Paul Nollette
Beryl Jones
Steve Lopez
John Whytal
Judge William Downes
Donald Lederhos
Ambassador Ray Flynn
Father Ronald Pytel
Paul Marretti
Kevin Lopresti
Dan Sieve
David Hessling
Robert Wolf
Ted van der Zalm
Normand Letourneau
Lt. Daniel O'Callaghan
Capt. Alfredo Fuentes
Vincent Valerio