Knights Among 25,000 at San Francisco Walk for Life
1/19/2008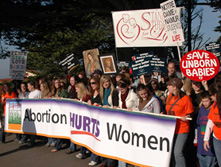 Knights of Columbus from throughout California and other western states were prominent among the tens of thousands of participants in the West Coast Walk for Life in San Francisco on Saturday, Jan. 19.
The Walk theme was "Abortion Hurts Women."
Archbishop George Niederauer of San Francisco and seven other California Catholic bishops joined the rally and the Walk.
The walk, in its fourth year, was supported by a $10,000 contribution from the Supreme Council, presented by supreme directors Emilio Moure, Joseph Schultz and John Wainscott.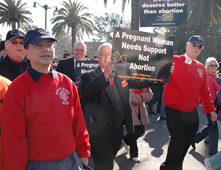 The walk followed a route of several miles, from the Embarcadero though Fisherman's Wharf, finishing near the Presidio.
The Walk for Life West Coast began in 2005 when a small group of San Franciscans decided to organize a walk to reach out to women in support of life.
Each year participation has grown, with attendees coming from the Bay Area and other parts of California and the western states.
Walkers paraded down thee streets of San Francisco after hearing from Alveda King, the niece of Martin Luther King, Jr., and Gianna Jessen, a woman who survived an abortion, at a pre-walk rally.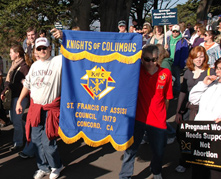 King compared the pro-life movement with the struggle her family endured for civil rights for African Americans.
"My uncle said injustice anywhere is injustice everywhere," King said.
"Dr. King said that the Negro cannot win if he is willing to sacrifice the future of his children for personal comfort and safety. So here we are on behalf of the children, the future generation," she added.
Walk for Life co-chair Dolores Meehan said the crowd has grown from 5,000 at the first event in 2005 to 20,000 last year and now 25,000 this year.