Order Underwrites Papal Essay Contest
3/10/2008
Diocese of Green Bay organizing contest for grades 9-12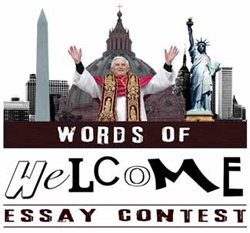 The Knights of Columbus, in conjunction with the Diocese of Green Bay, Wis., is sponsoring a nationwide essay contest to welcome Pope Benedict XVI to the United States April 15-20. The contest is open to students in grades nine through 12.
In addition to preparing young people for the pope's historic visit, the contest also offers incentives to participating schools and teachers. The school that submits the most entries will receive a $1,000 gift from the diocese; the ten teachers who submit the most entries will each receive a $100 gift certificate to Amazon.com.
In February, the diocesan education department launched the Web site www.wordsofwelcome.org, which contains contest guidelines and entry forms. Participants are also encouraged to read supporting material that includes information on World Youth Day, questions to the pope submitted by young people, and an article about the Solemnity of Sts. Peter and Paul.
"[Pope Benedict] is our first teacher, the primary teacher of our faith," said Diocese of Green Bay Superintendent of Schools Mark Salisbury, who is organizing the contest. "The hope is that if the kids get exposed to a great teacher, that will mean something."
Students are asked to compose an essay on one of three topics: the Church's influence on the culture of the United States; the reality of the Church based on the writings of Pope Benedict; or the explanation of a theme in Pope Benedict's written work. Participants are also required to include one paragraph Order Underwrites Papal Essay Contest Diocese of Green Bay organizing contest for grades 9-12 welcoming the Holy Father to the United States. Essays must be between 500-750 words.
Entries will be judged locally by a panel of at least three judges. These could include educators, priests, theologians or local Knights of Columbus. The winning entry from each school must be sent to the Diocese of Green Bay for regional judging by April 4. National winners will be announced April 10. The author of the top essay will receive a $3,000 prize. Five runnersup will each receive $1,000.
The contest is "a very timely and meaningful way to engage a great number of high school students in Catholic schools," said Supreme Knight Carl A. Anderson. "The Knights of Columbus is happy to help make this initiative a success."