Supreme Knight Presents 'A Civilization of Love' at United Nations
3/27/2008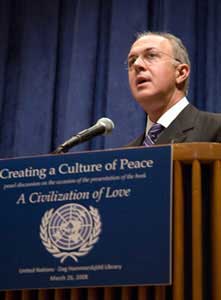 As part of a panel discussion that included survivors of 9/11 and the Rwandan genocide, Carl Anderson presented his new book, A Civilization of Love, at the UN's Dag Hammarskjöld Library March 26.
The event, entitled Creating a Culture of Peace, was hosted by the Permanent Observer Mission of the Holy See to the UN.
The panel of speakers consisted of:
Carl A. Anderson, Supreme Knight of the Knights of Columbus, the world's largest Catholic fraternal organization, and author of the newly released book, A Civilization of Love.

Ms. Immaculée Ilibagiza, Rwandan genocide survivor and acclaimed author of Left to Tell: Discovering God amidst the Rwandan Holocaust,

Capt. Alfredo N. Fuentes (FDNY, ret.), 9/11 hero and author of American by Choice.
Opening Remarks were made by H.E. Archbishop Celestino Migliore, permanent observer for the Holy See to the United Nations., and the panel moderator was H.E. Ambassador Hilario G. Davide, Jr., permanent representative of the Republic of the Philippines to the United Nations.
The book presented, A Civilization of Love: What Every Catholic Can Do to Transform the World (HarperOne, 2008), draws on the writings of John Paul II and Benedict XVI to show that love and our personal example are the best blueprint for a hope-filled future.
At the close of the event, Carl Anderson signed copies of A Civilization of Love, which has been selling well online, and been as high as number 8 on bn.com.