Book Develops Themes Pope Likely to Stress During Visit
3/24/2008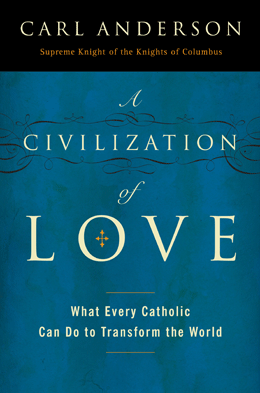 A new book by Supreme Knight Carl Anderson, being published exactly three weeks before Pope Benedict XVI's arrival in the United States, provides insights into the themes the pope is likely to stress and provides a practical guide for Catholics who want to help change the culture in this presidential election year and beyond.  
The book, A Civilization of Love: What Every Catholic Can Do to Transform the World, is being published on March 25 by HarperOne. Anderson has been Supreme Knight of the 1.7 million member Knights of Columbus since 2000, and is a member of three pontifical councils. He is a consultant to the U.S. Conference of Catholic Bishops, and serves on the Board of Trustees of the Catholic University of America.
"This book is about the power of faith to transform culture," said Anderson. "To truly be effective, cultural change must transcend politics and begin with the way that each of us lives out our faith each day."
The book applies Catholic social values to some of the most pressing issues of the day, including immigration, business ethics, globalization, abortion, euthanasia and the role of the family.  All of these are topics that have been addressed repeatedly by Pope John Paul II and his successor, Pope Benedict XVI, who will visit the United States in April. Anderson has worked with both popes during the last 20 years, and was one of the three delegates sent by the president to represent the United States at the opening Mass of Pope Benedict's pontificate in 2005.
Anderson will discuss his new book during a Newsmaker event at the National Press Club in Washington, D.C., on March 25. A lecture and signing tour will take Anderson from Washington to the United Nations in New York to the Vatican in Rome, and back to New Haven, Conn., the birthplace of the Knights of Columbus and the location of its international headquarters.