Knights of Columbus Provide Chair for Papal Meeting
4/18/2008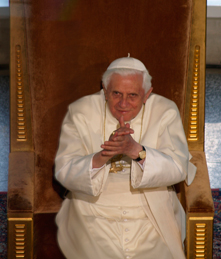 When Pope Benedict XVI met with interfaith leaders on April 17 at the John Paul II Cultural Center in Washington, D.C., his connection with his predecessor was illustrated in a visible way.
The high-back, gold-trimmed chair that the Knights of Columbus provided for Pope Benedict during the interfaith meeting was the same one that was used by Pope John Paul II during the latter's Mass at Aqueduct Raceway in 1995.
The Knights of Columbus was co-sponsor of that papal Mass with the Diocese of Brooklyn, N.Y.
After the Mass at Aqueduct, the chair became part of the permanent collection in the Knights of Columbus Museum's papal gallery in New Haven, Conn.
When the chair returns to it place of honor in the museum after the meeting in Washington, a new wall panel describing the chair will be prepared.