Dedication of McGivney Hall at the Catholic University of America
9/8/2008
May it please Your Excellencies, Reverend Monsignors and Fathers, distinguished faculty members, students, friends of the John Paul II Institute and of The Catholic University of America. I also greet my brother Knights, my fellow Supreme Officers and senior officials who have traveled from New Haven to be with us today, and especially my brother Knights who are members of the college council right here on the CUA campus.
Today we celebrate a great day in the history of the John Paul II Institute for Studies on Marriage and Family, of The Catholic University of America and of the Knights of Columbus.
Precisely 20 years ago today, on the feast of the Nativity of Our Lady, we officially opened the Washington, D.C. session of the John Paul II Institute.
On that occasion, we were honored to have with us as principal celebrant of our opening liturgy, the Prefect of the Congregation for Catholic Education, His Eminence William Cardinal Baum, who we were honored to have join us 20 years later at today's Mass.
On this occasion we remember as well His Eminence James Cardinal Hickey, who as Archbishop of Washington and first Vice Chancellor of the Institute, guided its development and growth with special attention and what I would describe as a father's loving concern.
And we recall the dedication of my predecessor, Past Supreme Knight Virgil Dechant, whose generous support and vision made the idea of this project a reality. I would thank as well the Supreme Officers and Directors of the Knights of Columbus whose support of the Institute has enabled its growth and development in such a remarkable way.
Special gratitude is due to all those of The Catholic University of America whose vision both formed and enabled this project to move forward – especially our president, Father David O'Connell; our chancellor, Archbishop Donald Wuerl, and our chairman of the Board of Trustees Bishop William Lori.
Upon the opening of the Institute in Washington Pope John Paul II sent a message which read, in part:
"Throughout these first 10 years of my service in the See of Peter, I have sought to give a primary place in my pastoral concerns to questions related to the sacrament of Matrimony and to family life. On these delicate matters, I have wished to offer clear doctrinal teaching to my brothers and sisters in the Church and to all people of good will. I have likewise given personal support to many projects which seek to protect, strengthen and enrich the family. Accordingly, I offer my heartfelt encouragement to this latest worthy initiative, trusting that it will bear much fruit for the Kingdom of God."
I am pleased that the beginning of this undertaking coincides with the 20th anniversary of Pope Paul VI's Encyclical Letter Humanae Vitae, for I am certain that the Institute will give notable assistance to the Church's efforts to hand on ever more effectively the prophetic truth of that historic document.
As Pope Paul VI wrote on that occasion, the 'first task – especially in the case of those who teach moral theology – is to expound the Church's teaching on marriage without ambiguity' (No. 28), a task which he described as 'an eminent form of charity for souls' (No. 29)."
In the 20 years since these words were written, the administration and faculty have sought earnestly to remain faithful to this mandate given by the Institute's founder, Pope John Paul II. On many occasions, officials heard directly from our great pope about the importance he placed on the work of this Institute and the hope he had for the contribution that it would make.
Today we observe in a very special way – what we might say is our answer to the hope he placed in all of us. But we should be the first to say that this is only part of our answer.
Today we take great pride in the dedication of this beautiful building on this historic campus. But what is even more beautiful is what will occur inside this building – what Pope John Paul II reminded us is "an eminent form of charity for souls."
Why this is so was made abundantly clear earlier this year when just a short distance from where we are now, on this very campus, Pope Benedict XVI said to Catholic educators assembled here from throughout the United States:
"A university or school's Catholic identity is not simply a question of the number of Catholic students. It is a question of conviction – do we really believe that only in the mystery of the Word made flesh does the mystery of man truly become clear (cf. Gaudium et Spes, 22)? Are we ready to commit our entire self–intellect and will, mind and heart – to God? Do we accept the truth Christ reveals?"
It has been my experience, and I know it to be the experience of other members of the Institute faculty, that the Church's clear teaching on marriage and family encourages a dynamic encounter among students and faculty that far surpasses what might be described in other environments as an academic assessment of rival theories of morality or narratives of human existence.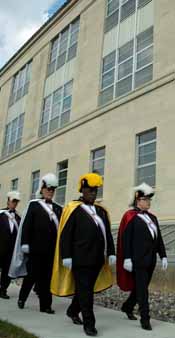 It is precisely at this point that we recall other words of Pope Benedict, spoken in New York City at St. Patrick's Cathedral, of the Venerable Servant of God Michael J. McGivney. He described the founder of the Knights of Columbus as "that exemplary American priest" who was such an impressive example of the "unity of vision and purpose – rooted in faith and a spirit of constant conversion and self-sacrifice (which was) the secret of the impressive growth of the Church in this country." And we might add on this occasion of the growth of The Catholic University of America.
And we must recall, it was such "unity of vision and purpose" that the pope reminded us "is the true spiritual renewal desired" by the Second Vatican Council. Thus, it is entirely fitting that this new and creative academic venture be housed in this building, now named for a young American priest who was so closely configured to Christ in his fidelity to the Church and his sacrificial service to the families entrusted to his pastoral care.