Poll Shows Overwhelmingly Positive View of Pope on Eve of U.S. Visit
3/25/2008
Marist Poll Commissioned by Knights Released at National Press Club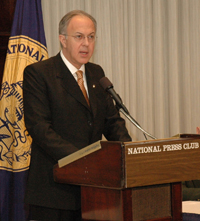 Americans have an overwhelmingly positive view of Pope Benedict XVI on the eve of his visit to the United States, according to a new poll released March 25 at a Newsmaker event at the National Press Club in Washington, D.C.
The poll was commissioned by the Knights of Columbus and conducted by the Marist College Institute for Public Opinion between Feb. 25 and March 5, 2008. The results were announced by Supreme Knight Carl Anderson.
By a ratio of four and a half to one (58 pecent to 13 percent), respondents said that they had a favorable or very favorable view of Pope Benedict. The poll also found that an even higher percentage – 65 percent – have a favorable view of the Catholic Church, although a higher portion, 28 percent, have a negative view.
Forty-two percent of Americans said that they would like to attend one of the Pope's public appearances while he is in the United States, and 66 percent of Catholics said they'd like to attend one of the events. Pope Benedict will be celebrating large open-air Masses in Washington, D.C., (at Nationals Stadium) and New York City (Yankee Stadium), and will host several smaller gatherings with Catholic educators, seminarians and leaders of other religious faiths. Anderson also unveiled a special new Web site (www.papaltrip.org) that offers detailed information about the Pope's trip, as well as historical material about previous popes and their dealings with the Catholic Church in the United States.
Seventy percent or more want to hear Pope Benedict talk about: allowing God to be a part of their daily lives (73 percent), finding spiritual fulfillment by sharing their time and talent (71 percent) and how they can make a positive difference in the world, their state, and communities (70 percent). Nearly two-thirds (64 percent) expressed an interest in hearing Pope Benedict talk about how they can have a society where spiritual values play an important role.
"The bottom line," Anderson said, "is that, despite years of very negative stories about the Catholic Church scandals, and dissenting view of the Pope as some sort of "panzercardinal" determined to pursue the unorthodox to the ends of the earth, the American people have a very sensible and balanced view of Benedict and the Church. And they are very open to hearing his views on matters of how they might live their faith and put it into action in their daily lives."