New Encyclical Issues Renewed Look at Ethics in Economic and Social Affairs
7/9/2009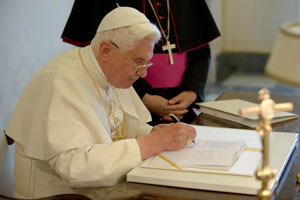 Pope Benedict XVI issued an encyclical letter July 7 that calls for an ethical, principled approach to economic and social responsibilities. The docum ent, entitled Caritas in Veritate (Love in Truth), addressed not only to Catholics but to "all people of good will," deals with a variety of modern cultural issues. Its underlying message, however, is a renewed exhortation of the Gospel message of Jesus Christ. The Holy Father reminds readers at the outset that love, or charity, "rejoices in the truth" and "is an extraordinary force which leads people to opt for courageous and generous engagement in the field of justice and peace."
The foundation of Caritas in Veritate is the Christian understanding of the dignity of life, and the human call to virtue.
Many have sought to analyze the pope's statement through a political lens, but Supreme Knight Carl Anderson emphasizes that the encyclical is a moral document, transcending conventional politics. In a Catholic News Service interview, he stresses that the pope's message is a call to renewal and reform in our personal and business affairs – to a consideration not focused on personal gain but on the welfare of the larger society.
Headline Bistro has featured a number of articles on the new encyclical, including the editor's analysis of the document's breadth of scope.
Related Articles
Supreme Knight Says Encyclical Is a Moral Document
Supreme Knight: Encyclical Is a Call to Renewal
Headline Bistro – Editor's Analysis