Supreme Knight's Statement on the Death of Eunice Kennedy Shriver
8/11/2009
Supreme Knight Carl A. Anderson issued the following statement on the death of Eunice Kennedy Shriver: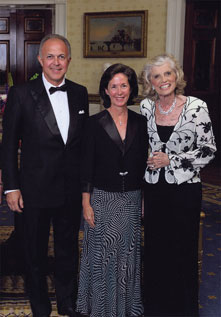 Knights of Columbus everywhere mourn the passing of Eunice Kennedy Shriver.  While she made many contributions to society throughout her life, her greatest legacy is the creation of Special Olympics.
Our involvement in, and support of, Special Olympics began 40 years ago, on the day that she and her husband, our brother Knight Sargent Shriver, held the first Special Olympics games in Chicago.
Her personal dedication to transforming society's view of people with intellectual disabilities inspired generations of Knights and their families to volunteer millions of hours of their time to this unique approach to affirming the fundamental human dignity of every person. Her approach to this and all of the causes that she pursued was distinctively Catholic, and the depth of her faith, which she shared with her husband throughout their lives together, has been an inspiration to every Knight. We express our heartfelt condolences to Sargent Shriver and the entire Shriver family.