Called to Love: A Common Vocation, an Uncommon Joy
9/11/2009
CMSWR Eucharistic Congress: Sacrifice of Enduring Love
September 11, 2009
Carl A. Anderson
Called to Love: A Common Vocation, an Uncommon Joy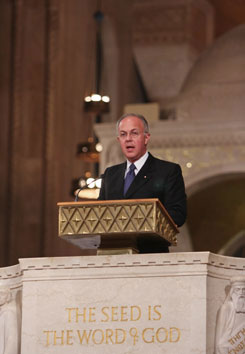 Tomorrow to close this Eucharistic Congress, we will have a Eucharistic procession here, and I am reminded of the procession celebrated on the feast of Corpus Christi every year at St. Mary's Church in New Haven, Connecticut, where the Knights of Columbus was founded.
The Eucharist is carried in a monstrance, and laymen, usually members of the Knights of Columbus, carry a canopy above it. Along the sides of the canopy are words from the great hymn of St. Thomas Aquinas, the Lauda Sion: "Ecce panis angelorum / factus cibus viatorum." "Behold the bread of Angels made the food of travelers."
Of course, on one hand we are all travelers in that we are moving toward death and eternal life. We are travelers who, to borrow from St. Augustine, are restless until we rest in God who is Love. The Eucharist is the "food of travelers" in that it is the nourishment for our pilgrimage on earth – which is in reality a continual transformation into being a true likeness of God who is Love.
But we are also travelers in the sense of being missionaries, being those perpetually sent out. We are all called to love, and part of answering this call is making love known to the world.
And I think the canopy and its quotation bring this out. In procession, the people of the church walk as travelers with the Eucharist through the streets of their everyday city, past the university and workplaces, past homes and past homeless shelters. Carried through the streets, the procession is a living sign of a spiritual reality: that through us, the Eucharist reaches every corner of every life; there is no area which cannot draw strength and meaning from the Eucharist.
If you think about it, this is absolutely true. Although people don't usually talk about it this way, each of us has the same vocation -- a vocation to love. And if God is Love, and the Eucharist is truly the fruit of God's love, then it makes sense that by taking the Eucharist within ourselves, we become more loving.
At the beginning of the Confessions, St. Augustine wrote "You have made us for Yourself, Lord, and our hearts are restless until they rest in You." But if you think about it, if God is love, then Love has made us for Love, and our hearts are restless until they rest in Love.
This says a lot about who God is. It also says a lot about who we are. Because, if God is Love, and we are created in the image and likeness of God, then we were created in the image and likeness of Love. It is what we call the universal vocation, the call to love.
It isn't redundant to say we are made in the "image and likeness of God," because there are two facets to our being made in the image of God who is love. We can think of one as a gift, the other as a task. The first is a structural element: we are images of God in that we are designed or hardwired to love.
The second is a performative element: it takes living in order to become more like God, and this is a continual act, a continual fashioning of ourselves to be more like God.
This explains why keeping ourselves in touch with God is so important. It also explains why the Church spends so much effort to encourage and maintain loving relationships: relationships with God and with each other. This is also why ordination, final religious vows, and marriage vows customarily take place at Mass, shortly before the consecration, and why receiving communion is the first significant act in that new state of life.
Through baptism, we are truly a new creation, because this active, continual element is given a new expression of love, a new method of love, a new measure of love – and this expression, this method, this measure is Christ himself. Christ's love, rooted in God, truly is "the way, the truth, and the life."
This isn't mere platitudes. In the most basic, visible, historical way, Christ changed the world by transforming each vocation. And the way he did this was by purifying human love, in every dimension.
Let's start with consecrated life. The coming of Christ changed our understanding of virginity to a more holistic view. In the Old Testament, consecrated virginity had little value; in fact, the only Old Testament example of this was Jeremiah, who remained unmarried by God's command as a sign of the desolation of the chosen people.
From the moment Christ was conceived in the Virgin's womb, Christ established a new reality about vocations: that God is so close to humanity that an intimate, exclusive relationship with God is possible.
This new understanding of virginity put marriage in a new light.The dignity of each unique person can only be fulfilled and respected in a union that is a complete gift of self to each other. And this too was a change from the Old Testament to the New. In the Old Testament, while marriage was enormously honored, polygamy was also at times tolerated, making marriage a non-exclusive relationship.
But in the New Covenant, as Pope John Paul said, "Our Saviour restored marriage to its original state as a communion of one man and one woman." If God has an intimate, exclusive love for each person, even making Mary the mother of his Son, how could a husband not give himself entirely to his wife? How could a wife not give herself entirely to her husband?
Through Christ this is now possible. As Benedict XVI wrote in Deus Caritas Est, Christ purified human love by making it like God's own love: both exclusive to a person and lasting.
However different each vocation is, the lay vocation, the religious vocation, and the priestly vocation are the same in that they are all different manifestations of the vocation we all have in common: the vocation to love.
Each vocation requires a total gift of self.
Each vocation endures for a lifetime.
Each is a path on a journey by which we become more like God.
Each vocation manifests different aspects of God's love.
All have a component that is loving towards each other.
All have areas for which they are responsible in manifesting Love of God and neighbor.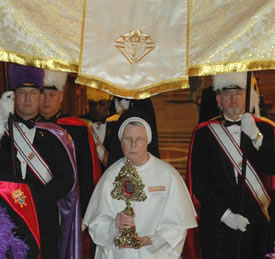 This reality changed the world. It gave us monasteries which were the seedbeds of new communities of life and of learning -- and it became not only the roots, but the foundation of Western Civilization.
As Cardinal Ratzinger noted, "time time and again Christianity has released the greatest forces of love….It was Christianity that first gave rise to an organized care for the sick and weak and a whole organization of love. Christianity was also responsible for the growth of respect for all men in all stations of life."
But as radical as this message was for the world before Christ, today it is Christ's fundamental purification of love that is so radical to secular culture.
And because Jesus Christ is the same yesterday, today, and tomorrow, he is equally capable of transforming our own lives and even our own culture today. But I suspect this will only happen as it did centuries ago through the dedication o f many vibrant religious communities who manifest God's love and once again provide a spiritual foundation for civilization.
Today, more than ever, we see love is non-exclusive and not enduring. And I don't mean this fatalistically. Hypothetically speaking, if one out of every four priests left the priesthood, would we believe we had given them adequate formation for the priesthood?
So when in the United States 25% of Catholics divorce, is this adequate formation for the marriage? When three out of five of those failed Catholic marriages are between two Catholics, what does Catholic marriage mean? When 69% of Catholic 18-25 year olds believe that "marriage is whatever two people want it to be," what obstacles has their Catholic education faced?
Now, this may seem like a dire situation. But there is good news. As John Paul wrote in Roman Triptych, "No century can obscure this truth of the image and likeness." Nothing can eliminate the call to love from our sensibilities.
And there is more good news: living our own vocations well helps other people live their own vocation. It helps those already in a vowed vocation to be true to it. It helps those who have not yet given themselves through a specific vocation to be open and to have the courage to say Yes to their vocation. And I'd like to offer a couple concrete areas where this happens.
Today, we often lament how few and fewer are entering marriage, priesthood and religious life. But if today these vocations are being avoided, it cannot only be disregarded as a result of rampant immaturity. It is also in part due to the fact that people are questioning the authenticity of the love that they see around them.
Inauthentic love has a name: hypocrisy. It speaks the language of love, but not its meaning. It offers a unique, unrepeatable gift, but then is quick to take it back.
It's a marriage without love, a priest without concern, a religious sister or brother without compassion. And when families are separated from love, then love is separated from the family.
When the Church family is separated from love, then love is separated from the Church experience. Love becomes an individual pursuit, and therefore a mere shadow of itself.
For this reason, speaking to priests, Pope Benedict encouraged a "harmony between what we say with our lips and what we think with our hearts." We must keep ourselves sensitive to our vocation to love within our specific vocation.
Another facet of authentic love is perseverance. A lack of perseverance in love, in nearly every case, is a result of a misunderstanding or a breakdown of love. A total gift of self is not limited to giving oneself for a time. It requires an extrasensory commitment and that is why it is called a total gift of self.
As Cardinal Ratzinger wrote, people are beings changing over time. We are the sum total of our entire life, and cannot be completely known by a slice of our life at one time or another. For this reason we have vows; vows are one of the only ways to indicate that the whole person is given in love in this vocation.
The witness each of us can give is to continue to love through one's vocation even during times of spiritual aridity, like Blessed Teresa of Calcutta experienced and St. John of the Cross and many other saints. Such an experience shouldn't simply be looked upon as a step in the spiritual journey of life. It is an experience by which we can relate to all of those who feel disconnected from the love of God in some way.
In a way, this type of spiritual aridity, this failure to "feel" the power of love, is exactly what so many young people feel today. But in another's perseverance, they can find and see the strength of love, the strength of a heart that does not simply feel but a heart that sees and loves according to the truth.
And for many of these persons, a litmus test of this authenticity is joy. Today perhaps one of the greatest obstacles to the religious vocation is not scandal but joylessness – or what we might call the scandal of joylessness.
For this reason, too, before becoming Pope, Cardinal Ratzinger said the Church doesn't have "such urgent need" for reformers, but rather what the Church really needs are "people who are inwardly seized by Christianity, who experience it as joy and hope, who have thus become lovers. And these," the pope said, "we call saints."
In this, all vocations are necessary, and each vocation offers a particular answer to the questioning of authentic love. We should never misinterpret differences between vocations as a reason to segregate vocations from each other. Of course, it is natural—and necessary—for people to live with their community, whether religious or familial. But we should not lose sight of the great benefits of interaction between the vocations.
Often, the laity forget what the ultimate longing is, the longing for God, our greatest desire for love that only God can fulfill. Without God in the picture, the laity are left trying to fulfill an infinite longing with finite relationships; it strains the relationships and doesn't lead to ultimate fulfillment.
By their witness, priests and religious declare that this infinite longing is good, and that it should not be cauterized simply because an answer cannot be found on earth. By their religious witness, priests and religious declare that there is only one person who can ultimately fulfill our infinite desire for love: and that person is God.
Often, priests and religious need to be reminded of the world and family God created as touchstones of his own love. To choose a life of consecrated virginity is not to reject family. It is not an "opting out" of parenthood, although in the strictest biological sense it does. Rather, a vocation to marriage, a call to the consecrated life is first and foremost a call to love God and to give oneself totally in service to God and neighbor. And like the family, that witness is an important school of love.
The consecrated life is an "opting in" to become spiritual parents of the Church's children; and in doing so they too reveal an important dimension of the "nuptial mystery" of human existence.
By their families, the laity reminds the religious what it truly means to be a parent: to care for a child before oneself, to share in a spouse's triumphs and troubles, to give everything to one's family because to give anything less is to abandon it to self-destruction in a thousand directions.
Additionally, in making the switch from biological parenthood to spiritual parenthood, people in consecrated life can look to Mary, the Virgin Mother. The first person who faced this broadening of family was Mary herself. As Pope Benedict noted in Spe Salvi, when Jesus' public ministry began, she "had to step aside, so that a new family could grow, the family which it was his mission to establish and which would be made up of those who heard his word and kept it." Again, at the cross, her motherhood is given away to John, and to all of us.
As we can see in these examples, Christ's transformations of the vocations of marriage and religious life were only made possible—and fulfilling—through something else: the establishment of the Church. In the Old Testament, "family" was limited to blood relatives, people of your tribe.
However, in Christ's sacrifice on the Cross, family in the eyes of God was broadened to everyone. God redeemed and involved himself with not just a Chosen People, a people defined by bloodline, but with all people, a people defined and by a common origin, the Creator, the one who instilled in us all the vocation to love.
For this reason, Pope John Paul wrote that "No one is without a family in this world" because "the Church is a home and family for everyone." The interconnectedness of the vocations within the Church is not a connection of utility. It is an interconnectedness of family, a bond of love.
And we learn this in the schools of love: those places where God's love takes root in our lives through the witness of others. It includes the family, the seminary, and the religious community. It includes also experiences which unite oneself with Christ and the rest of humanity through prayer and suffering.
But the primary school of love is the one celebrated this weekend: the Eucharist. It makes present Christ's sacrifice on the Cross, his complete self-gift to the Church. And as such, it is the source of all other schools of love.
As Pope John Paul said to a group of lay persons in Nigeria:
"The ultimate criterion of your dynamism is not to be found in human ingenuity, or activity, or even organization. It is to be found in union with Jesus Christ, above all in Eucharistic worship. The real test of the Christian vitality of the village, the parish, the diocese and the nation is found in the answer to the question: What place does the Holy Eucharist have in your lives? For it is through sharing in the Paschal Mystery of his Death and Resurrection that Jesus makes us effective collaborators in spreading his Kingdom on earth. It is truly the Mass that matters. It is through the Eucharist that Christ guides our lives and builds our communities of love, understanding and mercy."
That is, if the Eucharist is central to Christian life, it must also be central to Christian living. As Benedict XVI wrote in Deus Caritas Est, "A Eucharist which does not pass over into the concrete practice of love is intrinsically fragmented."
On one level this means charity. Out of love for us, Christ gave himself in the Eucharist as a participation in his sacrifice on the Cross, and in our charity to others we can extend his power to redeem. Love is the method by which his saving power is made concrete.
But at another level, the Eucharist is intrinsically fragmented—that is, broken apart—when it becomes part of our bodies but not part of our lives through concrete practice of love in our vocations.
The Eucharist is also unique in that it is the only one that cannot really be explained as a school of love from a purely secular standpoint. Its spiritual reality has to be accepted. For this reason, although the world praised Mother Teresa for feeding the poor and bandaging the sick, secular media often ignored the only part of her day that was absolutely consistent and, in her view, vital -- the hour she spent, every single day, in Eucharistic adoration.
As much as the Eucharist is vital to an individual's life as a Christian, it is vital to the life of a parish and of the Church at large. Regarding Eucharistic adoration, more than one person has begun to go simply because they were asked to try it and see if it made a difference in their lives.
And for these people, often what they find is that it doesn't make a difference in their lives so much as it makes a difference in them.
It transforms them.
It makes them more loving.
It makes them live beyond themselves.
And in this, religious communities of sisters and brothers, monks and nuns are vital role models of lives Eucharistically centered on love.
As Pope Benedict wrote in Sacramentum Caritatis, "Communion always and inseparably has both a vertical and a horizontal sense: it is communion with God and communion with our brothers and sisters."
We can't have communion with our fellow human beings unless we have a proper communion with Jesus Christ. This is why Cardinal Ratzinger once wrote that the whole of human history can be summed up as a Yes or No to Love. And we can only say Yes or No to love, with a complete gift of self, a sincere gift of self, first to God, then to our neighbor.
1 St. Augustine, Confessions, 1.1
2 John Paul II, Homily at a Mass for Young People and Celebration of Marriages. Nairobi (Kenya), August 17, 1985. §7.
3. John Paul II, Roman Trilogy, 18. Cf. Anderson and Granados, Called to Love, 124.
4 Ratzinger
5 Benedict XVI, Spe Salvi, §50.
6 John Paul II, Familiaris Consortio, §85.
7 Benedict XVI, Deus Caritas Est, §14.
8 John Paul II, Sacramentum Caritatis, §76.