Bishop Lori Offers Memorial Mass
8/4/2011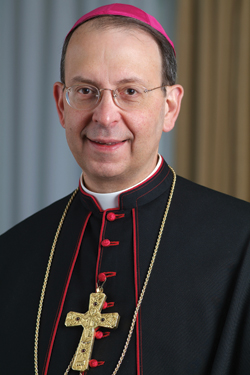 Bishop William E. Lori, S.T.D.
  Photos
During the Mass on Thursday morning offered in memory of all deceased Knights of Columbus, Supreme Chaplain Bishop William E. Lori said that the prayers of the faithful can assist those who have gone before us in their journey toward heaven "where they will see the triune God face to face."
Through the Church, he added, "we have been given all the means of salvation, and the Holy Spirit has poured into our hearts a love that is stronger than death."
Among those remembered in a special way during the annual Memorial Mass at the Supreme Convention in Denver were the Knights of Columbus saints and blessed, including the six Mexican priests who suffered martyrdom during the Cristeros era of the early 20th century.
In addition, the names of the members of the Church's hierarchy and the Knights of Columbus leaders who passed away in the previous 12 months were read by Deputy Supreme Knight Dennis A. Savoie.
In his homily, Bishop Lori detailed the life and virtues of the saint of the day, St. John Vianney. He was a pastor in the aftermath of the French Revolution when people were cynical of religion and poorly catechized. Through his life of poverty, chastity and obedience, and the simplicity of his preaching, John Vianney soon brought the whole village of Ars back to the Church and people were flocking from all over France to go to confession to him, Bishop Lori said.
"He was called a prisoner of the confessional," Bishop Lori observed. "He was a prisoner so that his parishioners would be set free of their sins."
Citing the theme of the Supreme Convention, the bishop added, "He did this so that the world may know new hope."
Bishop Lori said that the same spirit of a hope in everlasting life was behind the heroic deaths of the Mexican martyrs, and the selfless work of Venerable Michael McGivney, the founder of the Knights of Columbus.
He continued, "Many of us saw this hope of eternal life shine from the face of our recently departed Supreme Secretary Emilio Moure. A faithful son of Our Lady of Guadalupe, he was radiant in the hope of eternal life as he approached the hour of death."
In conclusion, Bishop Lori said that priests and bishops, together with the laity of the Church, are all pilgrims on earth, living in hope of eternal life with God. Every member of the Church must seek forgiveness of sins, strive for holiness in life and pray that they and others may see God face to face, he said.