Pope Francis Encourages Knights of Columbus in Works of Charity and Witness to Authentic Nature of Marriage, Life and the Rights of Believers
8/6/2013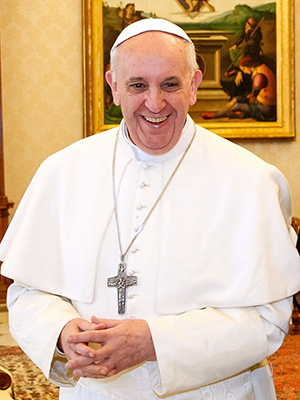 (SAN ANTONIO) – Pope Francis praised the charitable works of the Knights of Columbus and encouraged the organization to defend the sanctity of marriage, the dignity of life, the beauty and truth of human sexuality, and the rights of believers.
The pope's sentiments are contained in a letter of greeting to the Knights' 131st annual convention, now taking place in San Antonio.
The letter, which was sent by Vatican Secretary of State Tarcisio Cardinal Bertone on behalf of Pope Francis, expressed the Pope's "esteem for the ideals of faith and fraternity embodied by your Order, its commitment to the Church's mission, and the many works of charity and evangelical witness undertaken by the Knights in their local Councils, parishes and communities."
The letter also encourages Knights to continue their witness, saying, "Conscious of the specific responsibility which the lay faithful have for the Church's mission, [Pope Francis] invites each Knight, and every Council, to bear witness to the authentic nature of marriage and the family, the sanctity and inviolable dignity of human life, and the beauty and truth of human sexuality."
"In this time of rapid social and cultural changes," the letter continues, "the protection of God's gifts cannot fail to include the affirmation and defense of the great patrimony of moral truths taught by the Gospel and confirmed by right reason, which serve as the bedrock of a just and well-ordered society."
On religious liberty, the letter conveys the pope's "appreciation of the clear public witness offered by the Knights of Columbus in protecting the right and duty of believers to participate responsibly, on the basis of their deepest convictions, in the life of society."
The letter, which underlines the specific responsibility which the lay faithful have as part of the Church's mission, was directed to more than 2,000 attendees consisting of Knights and their families from dozens of countries gathered in San Antonio from Aug. 6-8 for prayer, business planning, recognition and fellowship. More than 100 members of the Catholic hierarchy, including 11 cardinals, are also attending this year's convention.
The convention's theme, "Be Protectors of God's Gifts," is drawn from Pope Francis' inaugural homily delivered in March.
"At the close of a year in which we set new records for charitable contributions and worked very closely with the Church, the Knights of Columbus is grateful for the support of our Holy Father," said Supreme Knight Carl Anderson. "And we look forward to continuing to serve our Holy Father, the Church and those most in need."