Memorials to Unborn Children
Culture of Life Activities
Knights of Columbus units throughout the Order pay tribute to the millions of children killed by abortion by erecting memorials in Catholic cemeteries, on council hall grounds, and at parishes.
The idea for these memorials grew from a challenge made by the late Cardinal John O'Connor in his homily at the opening Mass of the 110th annual Supreme Council Meeting held in New York in 1992. He described the Tomb of the Unborn on the campus of Franciscan University in Steubenville, Ohio, and asked his brother Knights "to continue the Order's aggressive fight against abortion" by erecting a tomb in each Catholic cemetery in each diocese where the Order is established. This request struck a chord with Knights and the program became a grassroots phenomenon. Since the program began more than 1,835 monuments have been built.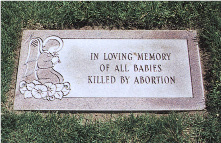 These monuments, ranging from simple headstones to elaborate memorials, stand as testimony to one simple fact: Human life is a sacred gift from God to be protected and cherished at all stages from conception to natural death.
Councils should work with their local monument companies to determine what style would best suit their needs and resources. These memorials also feature many different messages. Here are some examples:
"In memory of all innocent victims of abortion."

"Before I formed you in the womb I knew you," Jeremiah 1:5

"Rachel mourns her children, she refuses to be consoled because her children are no more. Thus says the Lord:  Cease your cries of mourning, wipe the tears from your eyes.  The sorrow you have shown shall have its reward, says the Lord, they shall return from the enemies' land. There is hope for your future, says the Lord." Jeremiah 31:15-17.

"Please pray for an end to abortion."
Often these memorials are paid for with council funds raised via fundraisers or cooperation with other culutre of life organizations.
For some samples of memorials, use these links. Sample 1  Sample 2  Sample 3  Sample 4  Sample 5
When dedicating a memorial, participants can utilize the "Pray the Rosary to End Abortion" prayer card (#2072).