Knights of Columbus Distribute Winter Coats to Special Needs Children in New Jersey
On Friday, Dec. 18, the New Jersey State Council of the Knights of Columbus, in conjunction with several local councils in the Newark area, began distribution of new winter coats to area children in need.
The first distribution took place at the Mt. Carmel Guild Academy in West Orange, where special needs children received winter coats. Additional distributions are planned at Blessed Sacrament and St. Michael's schools, as well as at other locations around New Jersey.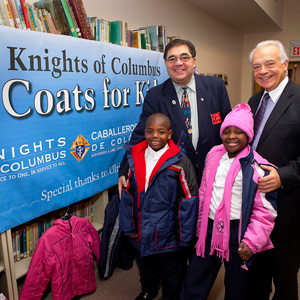 This event is part of the second annual "Coats for Kids" initiative of the Knights of Columbus. Similar distributions have taken place in 11 U.S cities, and many more will take place in the weeks to come. Overall, Knights of Columbus will distribute approximately 10,000 coats to needy children this winter.
The initiative began last year in an effort to help families with children living in colder climates who have been severely impacted by the sharp and sudden downturn in the economy.
"As our nation faces tough economic times, we believe it is very important to respond within our communities in concrete ways to help those most in need," said Supreme Knight Carl A. Anderson. "Helping children in need was a fundamental reason for the formation of the Knights of Columbus in 1882 and continues to be a very important component of our work today."
The Coats for Kids program is part of the Knights' Help a Child in Need campaign, which began in 2006 with a nationwide television appeal during the Christmas season for donations to charities that support the needs of children.
If you have any questions about the program, please contact Robert Ennis, director of Fraternal Operations and Programs at (203) 752-4616 or Peter Sonski, director of Public Relations at (203) 752-4182.