Star Council Award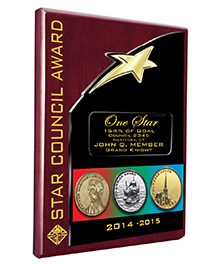 Prior to the end of the fraternal year on June 30, make sure that your council achieves the requirements to qualify for the Father McGivney, Founders', Columbian and Star Council Awards.
There are no application forms for the Father McGivney and Founder's awards.
Star Council Award
The Star Council Award recognizes outstanding achievement in membership, insurance and service program activities. To be eligible to earn the Star Council Award, a council must qualify for the Father McGivney, Founder's, and Columbian awards.
To qualify for these awards, a council must have submitted its Survey of Fraternal Activity (#1728) and its Service Program Personnel Report (#365). Other eligibility requirements are:
Columbian Award
Complete and submit  the Columbian Award Application (SP7) found in the Council Report Forms Booklet (#1436) or at www.kofc.org/forms. Councils must conduct and report at least four major programs in each of the Service Program categories: Church, community, council, family, culture of life, and youth. Completed applications must reach the Supreme Council office by June 30. 
In addition to meeting the traditional Columbian Award requirements - conducting at least four programs in each category - each of the six Columbian Award categories also has at least one featured program. By meeting all requirements for a featured program activity in a particular category, a council fulfills all requirements for that category.  The six categories and the featured programs for each follow (program links provide more information):
Father McGivney Award 
Father McGivney Award: Achieve membership quota. The quota for councils is 7 percent increase of the council's membership as of July 1.  The minimum quota is 3 and the maximum is 35.  Councils that attain Star Council status and achieve 200 percent of their net gain goal will receive the Double Star Council Award.  A council must also conduct or particpate in at least four First Degrees during the fraternal year.
Founders' Award
Achieve insurance membership quota. The quota for councils is a 2.5 percent net increase in insurance membership as of July 1 for the fraternal year.
(Note: all membership and insurance transactions must be received, processed, recorded and released at the Supreme Council office by June 30.)