World Day of Prayer for Vocations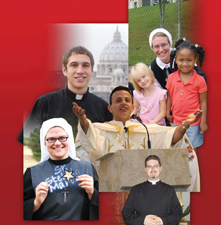 Each year, on the Fourth Sunday of Easter, Knights throughout the world participate on the annual World Day of Prayer for Vocations. This day is an opportunity for all Knights to raise awareness of the need for men and women to say yes to their vocations, especially if one is called to the priesthood or religious life.
With the help of the Knights of Columbus, thousands will hear their calls as a result of our prayers and vocation materials.
As Knights, we know the difference that one good priest can make. Raise awareness and get involved.
Tell Us About Your Programs
Help us improve the Service Program activities offered by the Supreme Council office by sending reports on your council's successful activities and/or any suggestions you may have on improving our programs. Send this information to Fraternal Services, Service Program Suggestions, 1 Columbus Plaza, New Haven, CT 06510-3326 or contact us. Please include "Service Program Suggestions" in the subject line.